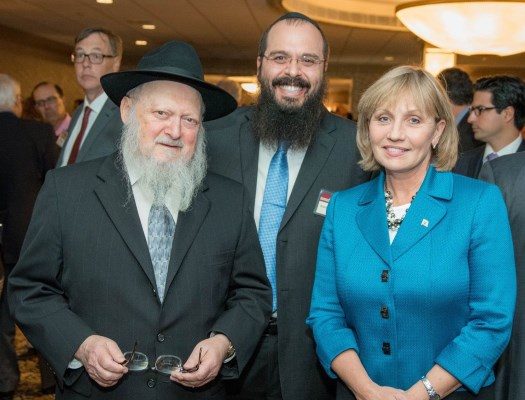 (L-R) Rabbi Moshe Herson, Rabbi Shalom Lubin and Lt. Governor of New Jersey Kim Guadagno.
900 Attend Jewish Law Symposium in N.J.
From the Madison Eagle:
Chabad of Southeast Morris County, based at 42 Park Ave. in Madison, drew some 900 attorneys and judges to its 10th annual Jewish Law Symposium, held Monday, Sept. 26, at the Birchwood Manor in the Whippany section of Hanover Township.
The symposium featured a panel discussion on the topic, "Law, Medicine and the Right to Decide."
RWJBarnabas Health President and CEO Barry H. Ostrowsky was the featured presenter at the event. The Robert Wood Johnson (RJW) Health System and Barnabas Health merged in March, creating RJWBarnabas Health, based in West Orange and with 11 acute care hospitals and other medical facilities in the state.
Rabbi Shalom Lubin, founder of the Jewish Law Symposium, and of Chabad of Southeast Morris County, moderated a panel discussion featuring:
• Dr. Kenneth Prager, Chairman, Medical Ethics Committee at the Columbia University Medical Center;
• Professor Sharona Hoffman, Director of the Law-Medicine Center at Case Western Reserve University, and
• Rabbi Michael J. Broyde, Legal Scholar at the Emory University School of Law.