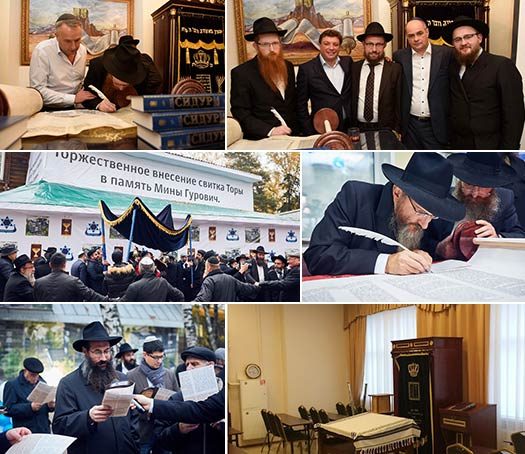 Yiddishkeit in Moscow continues to grow with three new Shuls opening just in time for the High Holy Days. Three beautiful and Mehudar Sifrei Torahs were dedicated in these Shuls as well.
These new Shuls join the 30 active Chabad Houses throughout the capital city of Moscow, which were initiated and developed by the Chief Rabbi of Russia, Rabbi Berl Lazar.
The first Shul was opened at the MGIMO University, the largest in Russia, where many Jewish students study. The Shul was opened after long and intensive work by the Shliach Rabbi Shimon Krasnodomsky with the local students, whose hearts he has managed to win over. His events are well attended by the students throughout the year.
The second Shul was opened in the Mitischi neighborhood, by the active Rosh Hakahal R' Boruch Bentzion Gorwitz together with the local Shliach Rabbi Yochanan Kosenko, a graduate of the Chabad educational institutions of Moscow. The Shul is the first phase of a much larger project which will continue to be developed.
The third Shul was opened in the Sokol neighborhood by the local Shliach Rabbi Boruch Kleinberg, who has been actively working with Russian Jews over many years.
The new Sifrei Torahs were brought to their new homes in MGIMO, Mitischi, and Sokol with great joy. Many local Jews came to pray at the new Shuls on Rosh Hashana and Yom Kippur.