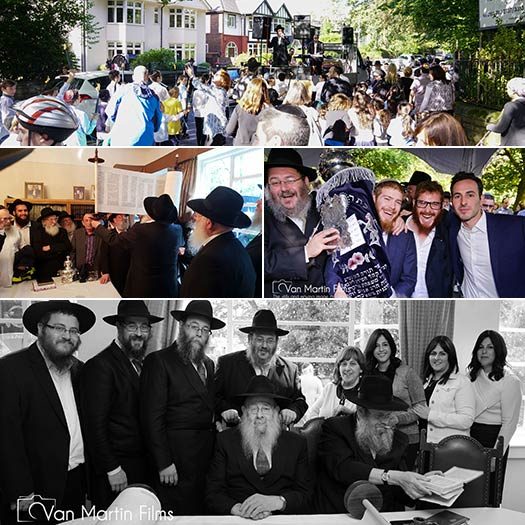 On Sunday, Ches Elul (Sept 11), the Lubavitch community of Manchester, UK, celebrated a Siyum Sefer Torah in honor of Rabbi and Rebbetzin Avrohom Jaffe. Rabbi Jaffe serves as Head of Lubavitch Manchester and Rov of the Kahal Chassidim Lubavitch shul for the past 52 years.
The Sefer Torah was commissioned by a close friend, Mr. Barry and Helen Parker and family.
Rabbi Jaffe, who founded the Yeshivas Lubavitch Manchester in 1983, is also a trustee of two of the biggest schools in Manchester, Broughton Jewish Primary School and Bury and Whitefield School.
The siyum started in the Broughton Jewish school where hundreds of the pupils watched as Sofer Uzi Brown demonstrated how the letters were written.
The Sefer was then completed at the home of Rabbi and Rebbetzin Jaffe before being paraded under a Chuppah in a huge procession through the streets of Manchester. As is the minhag, school children carried fire torches, live music was playing on a float and lively dancing from bochurim of the Yeshiva.
Hundreds followed the Chuppah to Lubavitch House, where there were very lively Hakofos and a reception.
Later in the evening there was an elegant Seudas mitzva banquet attended by Dayanim, Rabonim and members of the community.
Rabbi Jaffe and Mr. Barry Parker made very emotional speeches. Mr. Parker explained that one of the most moving moments of the day had been with the children in school that morning.
The guest speaker was Rabbi Daniel Walker of the heaton Park Shul, and the proceedings were chaired by the long standing gabbai of the Kahal Chasidim Shul, Mr. Max Cohen.