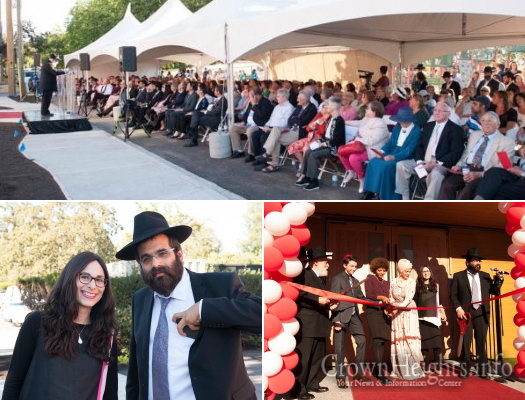 From Lubavitch.com:
Chabad of Vancouver Island, Victoria, opened the Verrier Family Chabad Centre for Jewish Life and Learning last Wednesday, August 24th, in a historic ceremony.
The 10,000-square foot, three million dollar center, home to a synagogue, daycare center, library, hebrew school, community hall, and kosher kitchen, is the first establishment dedicated to Jewish life to open on Vancouver Island since the gold rush of 1863. Vancouver Island has a Jewish population of about 5,000, many of whom first settled there during the gold rush.
Rabbi Meir and Chani Kaplan, the couple who established Chabad of Vancouver Island, led the opening, possibly the largest Jewish ceremony ever to take place in Victoria, with over five hundred people in attendance.
Among them, members of parliament Murray Rankin, of legislature Rob Fleming, and Victoria Mayor Lisa Helps, who offered greetings, recalled their participation in the groundbreaking last August 23rd. Speaking about how she got to know the emissaries and learned about their organization, Mayor Helps said that the work Chabad does for the community "inspires me."
Guest of honor Rabbi Yehuda Krinsky, Chairman of the educational and social service divisions of Chabad-Lubavitch, conveyed blessings to the community, noting the auspicious date, 20 Av, which marked 72 years since the passing of the Lubavitcher Rebbe's father, Rabbi Levi Yitzchak Schneerson.
For the Kaplans and their budding community, the crowning achievement of this project was the enthusiastic participation of local members. Mrs. Lisa Wolfe shared her personal encounter with the Lubavitcher Rebbe back in 1990, which proved to be a life-changing meeting. Helping with the financing for the new Chabad center, she explained, was her way of giving back.
Another donor, Mrs. Selma Linzer, told the story of her family's escape Europe at the turn of the century, and how they found a home and security with the Jewish community in Edmonton. "Like the people who prepared for our grandparents who came from so far away with nothing, it was incumbent upon us to be somehow participating in putting something in this community for the people who would come later, and so it's our pleasure to be involved in this," Mrs. Linzer said.
Members of the Verrier, Shortt, and Kessner families, for whom the Verrier Family Chabad Center, the Lionel and Margot Schneider Family Shul, and the Norman S. Kessner Community Hall are respectively named, participated in the formal ribbon cuttings. Guests then enjoyed a buffet dinner in the community hall.
"What I'm most proud of," said Rabbi Kaplan, who described the new center as a place where all are welcome, "is that this was built by the entire community."
For more information on Chabad of Vancouver Island, visit their website: http://www.chabadvi.org/.