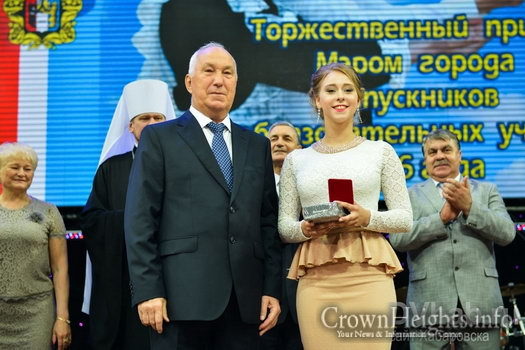 Tatiana Chaya Nekrasova, a graduate of Chabad's Jewish day school in Khabarovsk, Russia, received a medal from the city mayor last week as part of the year's "Outstanding Graduates" ceremony.
Tatiana was honored for her achievement in sports, as she is the Russian far-East gymnastics athlete and regional champion.
Tatiana just graduated the city's 'Or Avner' Jewish school, under the auspices of the Federation of Jewish Communities (FJC), where she studied from 1st to 11th grade, while competing in gymnastics' tournaments and becoming a professional athlete.
"Tatyana is one of our youth leaders, she has always been very active in the school and the Jewish community programs," said Khabarovsk Shlucha Mrs. Adele Snetkov. Tatiana is a member of EuroStars, with whom she went on European trips twice already, and plans to be actively involved with the EnerJew club, which is expected to open in Khabarovsk in the coming year. "We are very proud of her," she said.
Photos courtesy of the FJC