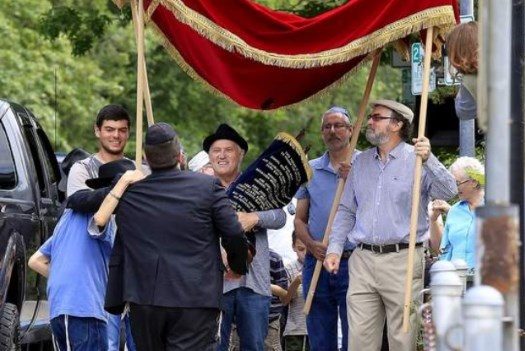 Chabad Celebrates New Torah in Ashland, Oregon
Amid much dancing, feasting and procession through the streets of Ashland, Chabad of Southern Oregon on Sunday celebrated the completion of a New Sefer Torah.
From The Ashland Daily Tidings:
Chabad, located in the old Starbucks by People's Bank, is one of three synagogues in Ashland and the city's only Orthodox synagogue. Chabad members have been working with a borrowed Torah, but now have their own, a revered scroll to be used for ceremonies and teachings down through the generations, Rabbi Avi Zwiebel said.
"It's like the (Torah is the) bride and we are the bridegroom, celebrating our merging with it. It's written and whole now and, like us, we are only complete when we're whole. It's part of the renaissance of Judaism taking place now," said Zwiebel on a short break from ritual dancing, as he marched the new Torah from the Ashland Community Center to the Plaza and back.
"The Torah is the cornerstone of our lives and it's been our guide for thousands of years," said Rabbi Chayim Mishulo of Portland, who came for the event. "It's the laws and stories and is written by hand on parchment, with a feather pen, the same way for 2,000 years. Every point, every letter in it is the same around the world and each letter or word can teach us something. Any time a new Torah is brought into the community, it's a joyous city-wide affair."
Click here to continue reading at The Ashland Daily Tidings.