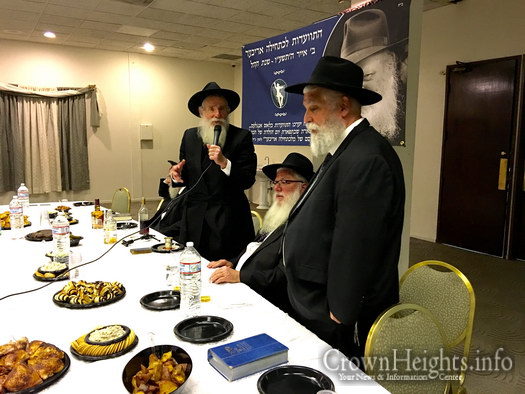 Shluchim from across California gathered last Monday evening at Chabad West Coast Headquarters in Los Angeles, California for their annual Farbrengen in honor of Bais Iyar.
This Farbrengen has been a yearly occurrence for close to 35 years and was instituted as a direct result of the Rebbe's directive to Rabbi Boruch S. Cunin, the head Shliach of California which was as follows:
בטח יערכו התוועדות בלאס אנגלעס…תפארת שבתפארת יום הולדת של המגלה והמפרסם של מלכתחילה אריבער
This year's Farbrengen was addressed by Rabbi Boruch S. Cunin, the head Shliach to California, Rabbi Ezra Schochet, Rosh Yeshiva of Yeshivas Ohr Elchonon Chabad, Rabbi Eli Hecht director of Chabad of the South Bay, Rabbi Yonah Fradkin, Director of Chabad of S. Diego and various other Shluchim.
The Farbrengen went until the early hours of the morning and was an inspirational reminder of the need to always go "melachtichila ariber" in the world of Shlichus and in our personal lives.