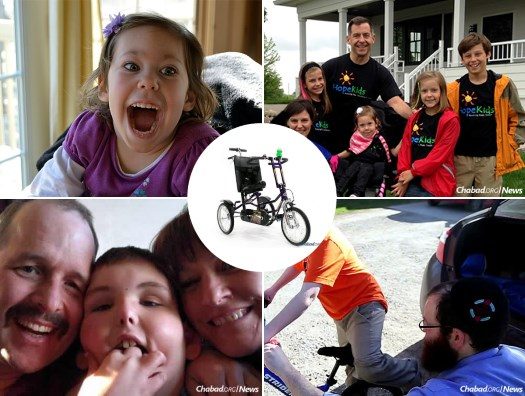 Some Very Special Kids Await Some Very Special New Bikes
by Carin M. Smilk – Chabad.org
The families of some 200 children are waiting, as patiently as they can, for a prize they won in a very special contest.
For the fifth consecutive year, the Friendship Circle of Michigan sponsored"The Great Bike Giveaway" named in memory of Michaela Noam Kaplan, a 5-year-old girl from the Detroit area with cerebral palsy who passed away in 2009. Despite her limitations, she "loved her adaptive bicycle," noted her family.
To be sure, so will this year's recipients. Charlize Schifsky, all of 4, cannot walk or talk, but she realizes that she won a bike. "She smiles and laughs when we talk about it," says her mother, Jo Schifsky. "She knows that good stuff is coming."
Charlize, who lives in Minnesota with her parents and three older siblings, has holoprosencephaly, or HPE (insert an "o" for the name of an organization called "Families for HoPE" to help support those dealing with this rare condition). About 3 percent of babies survive birth, according to Schifsky, and of this number, some 1 percent live beyond six months.
Charlize is their "miracle baby." Today, she is in a pre-kindergarten special-education class at a public school.
Her new bike will be adapted to her individual needs and look quite different from the wheelchair she uses. Not only will it allow her added mobility and the chance to spend more time outside, the exercise—the back-and-forth patterning—will strengthen her body and benefit her cognitive development, explains her mother.
"She'll be able to pedal it herself. She can't walk on her own, but she'll be able to pedal. It will be hugely empowering," says Schifsky, who notes that a handlebar built into the back also allows someone to push her. "We're looking forward to her having a sense of freedom, a sense of normalcy—to be a kid like any other."
The bikes have the added benefit of helping make the users more approachable, especially for other children.
"I don't think people are aware of bikes this specialized," says Schifsky. "They are very elaborate and very expensive—much too expensive to purchase on one's own. Most of the time, you see them in therapy centers."
'Generates Huge Awareness'
Rabbi Tzvi Schectman, family coordinator at the Friendship Circle who directs the program, says adaptive bikes can cost anywhere from $300 to $8,000. They are geared to match an individual's needs—for example, some are wheelchair-style for those with less mobility—but the purpose of them all is the same: to get kids out and moving.
This year's contest, which was open to the general public, gave away a record number of bikes by vote or raffle: 170 (compared with 18 bikes in 2011, the first year of the contest, and 145 last year). But even though the giveaway is technically over, people can still contribute online for more children to receive them. To date, an additional 53 children have gotten bikes by having third parties help purchase them outright.
The contest rules changed a little this year. First, the contest capped the number of applicants at 600; previous years saw as many as 1,800 applying. (Former entrants were notified of the changes and given an opportunity to be part of the contest, though not all of last year's registrants decided to try again, according to Friendship Circle). Second, each entrant had to have 10 "ambassadors" (family, friends and others) supporting them, publicly and financially. The first 600 kids with 10 ambassadors made up the applicant pool.
"That means there were 6,600 people out there trying to vote, donate and get the word out," says Schectman.
The national contest is partnered with a number of bike-company makers and brands, including Freedom Concepts, Rifton, Buddy Bikes, Ambucs, Triad, Flaghouse, Mobo Cruisers, Strae Sports, the Duet and Strider Bikes. The companies donate some bikes and offer others at reduced costs.
Schectman says the contest generates enormous awareness for all those involved. The children's bicycle needs are listed by city and state; local communities often take up these campaigns afterwards.
Not only that, some heartwarming outcomes arise from the publicity. A child in Bend, Ore., made the local news for not winning an adaptive bike. That prompted a 24-hour fundraiser resulting in $4,000—enough to purchase one. (The Jewish reporter who covered the story even wound up attending aPassover seder with Rabbi Yitzchok and Mimi Feldman, the Chabad-Lubavitch emissaries in Bend.)
The Chabad-run Friendship Circle, with hundreds of chapters around the country, is a nonprofit organization that brings together Jewish teenage volunteers and children with special needs, as well as offers programs and support to their families.
'He's Going to Be Involved'
The Whitemans, of Redmond, Ore., heard about the contest last year on Facebook (though had never heard of Chabad before) and entered on behalf of their son, Trenton. They didn't win, so they tried again this year.
And sure enough, the news came that they will be receiving "the Duet," designed with a wheelchair in front and a bike in the back for another person to pedal. The wheelchair detaches for multiple use.
"It's all very exciting," says Trenton's mother, Linette Whiteman. "He clapped when he heard; he claps when he gets excited."
The 17-year-old—who enjoys riding fast in his chair and feeling the wind in his face, according to his family—was born with a genetic disorder called BSFL syndrome. He cannot walk, but can roll, sit up and pull himself up. "He gets to where he wants to be," says Whiteman, "but this will bring him a lot of freedom. It will help him move more. We're going to be able to go to the grocery store together and the park. Everything is very close by, and now he's going to be involved."
She says Trenton would not have the ability to ride a bike on his own; even the model they are getting needed some extra adjustments. They plan on putting it to good use—and plan on having it for a long time.
"It's so neat!" declares Whiteman. "We wish we had it yesterday."