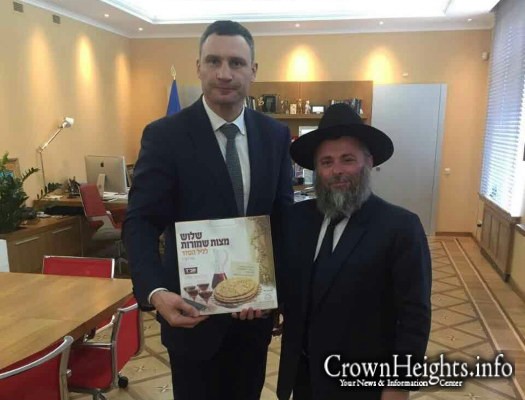 Yesterday, Monday, the Chief Rabbi and Chabad Shliach to Kiev, Ukraine's Capital, Rabbi Yonathan B. Markovitch, visited the city's mayor, Mr. Vitaly Kalitzky, at his office.
The visit took place in honor of Yud Alef Nissan, the birthday of the Lubavitcher Rebbe – a native of Ukraine, and the upcoming holiday of Passover.
During the meeting, Rabbi Markovitch 'farbrenged' with the mayor, and explained the greatness of the Rebbe and the positive impact of Chabad's activities on Jews and non-Jews alike.
At the meeting, Mr. Kalitzky expressed his appreciation for all the work Chabad does on behalf of the citizens of Kiev.