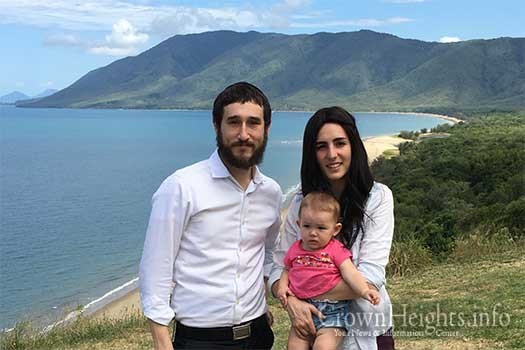 Rabbi Ari and Mushkie Rubin along with their daughter Devorah Leah.
Rabbi Ari and Mushkie Rubin have been appointed as the new RARA Shluchim to Northern Queensland Australia. They will be opening a chabad house to service the local Jewish communities ​residing along ​the coast off the ​famous ​Great Barrier Reef, as well as the many tourists who flock to this beautiful part of the world.
The Rubins will be based out of the two biggest cities, Cairns and Townsville. Their Shlichus will include visiting the greater area of Northern Queensland, from as far north along the coast as Cook Town to the southern area of Airlie Beach and Mackay, as well as more remote towns such as Mount Isa.
Chabad of RARA​,​ ​founded​ by Rabbi Shaul and Beverly Spigler​, has been servicing the communities of Northern Queensland for over twenty years. As the number of contacts grew, the demand for a permanent Chabad presence in the area became obvious. The new Chabad House, which will serve the 1000 or so Jews in Northern Queensland, highlights the tremendous growth and success of Chabad of RARA, which for the very first time is opening a permanent presence in one of the many areas that it serves around Australia.
The couple,​ along with their daughter Devorah Leah, will be arriving in Cairns in time for Purim, G-d willing, and already have 35 reservations for the event on the first night of Purim. After driving the 4 and a half hours to Townsville early the next morning, they will host another 30 people in time for them to fulfill all the mitzvahs of Purim. ​
​"My wife and I are very excited about the opportunities that such a shlichus presents," said Ari. "​We plan to start off ​
with Yom Tov programs, Friday night dinners, classes for both adults and children as well as a host of other services. ​We​ also
​have plans to start​ a Kosher catering service to help bring accessibility to kosher consumers both locals and those visiting the area."​
Shaul Spigler announced the appointment this past week, and it was received with joy by the Jewish people of Northern Queensland, as well as the frum communities of Melbourne and Sydney, for whom Cairns is a favourite holiday destination.
The Rubins join a RARA team which includes Rabbi Yossi and Malki Rodal, the Shluchim to Rural and Regional Australia, who have helped coordinate the new Shluchim.
If you would like to donate click here https://chabadofraraorg.clhosting.org/templates/articlecco_cdo/aid/401379/jewish/Donate/lang/en or email chabadcairns@gmail.com