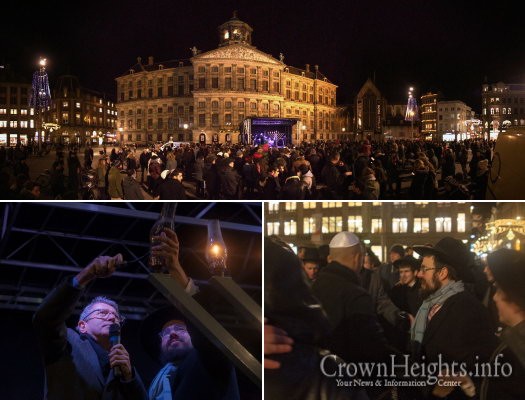 Hundreds of people came from all over the country to unite and celebrate Chanukah on the most famous square in Holland – in front of the Royal Palace in Amsterdam.
It was a beautiful and inspiring scene to see hundreds being able to show their Jewish pride, sing and dance together, and enjoy the warm Chanukah atmosphere.
Israeli ambassador Chaim Divon spoke very warmly about the beauty and importance of uniting and celebrating together with so many outside on the Dam Square. He was also given the honor to light the menorah and danced for a long time with the Shluchim, tmimim and crowd.
Famous Dutch comedian Javier Guzman was honored with lighting the shamash, and wished the crowd a chanuka sameach.
Shliach Rabbi Menachem Evers spoke about the fact that although in the world, and particularly in Europe, it's sometimes hard to feel safe, we can learn from the Maccabees, who trusted in G-d, and were able to overcome the strong enemy.
A lot of people said that this beautiful event was very special and emotional, that the fact that Jews can publicly be proud for who we are gives courage and strength.
A group of bochurim came with a mitzva tank from the Yeshiva in Brunoy and added a lot to the joy.
Photos by Dirk Spits