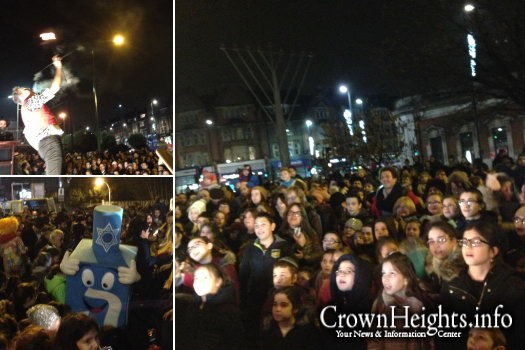 Cold Weather, Warm Atmosphere in Golders Green
Despite the cold weather and security alerts, Chanukah outdoor plans still went ahead in Golders Green, London. Thousands of people braved the streets to participate in the lighting of  the Giant Menorah at Golders Green Station.
This was the 32nd year the Giant Menorah stood in Golders Green Station, a Chanukah icon in Golders Green, started by Dr & Mrs Weinbaum.
This is in addition to the other 7 menoros that are erected by Tzivos Hashem under the organisation of Rabbi Yossi Simon.
The Menorah was lit every evening of Chanukah, with crowds from all parts of Anglo Jewry. Different guests of honor took part, including, Mr Adam Cannon, Mr Joshua Rosenberg, Rabbi Menachem Junik, Mr Issac Cohen, Mr Rael Goodman, and a variety of Chazzanim and singers.
Close to 500 menorahs were distributed, enabling people to light at home – many for the first time in their lives. Over 3,500 doughnuts were given out and consumed at the Giant Menorah.
The last night of Chanukah was the highlight of the festivities, with 'Kids Night – Tzivos Hashem: salute the children – our future.'
Over 1500 people, young and old showed up. Rabbi Mendel Gordon was the emcee. There was a special choir in memory of a chayol in Tzivos Hashem, Nochum Tzvi Potash, OBM.  In honour of "Shnas Hakhel," Children from all over the country said the 12 pesukim and mamorei Chazzal especially chosen by the Lubavitcher Rebbe.
A fire and juggling show, live music, balloon modelling, dreidel man, clowns, Chanukah gelt and doughnuts were enjoyed by everyone. With singing from Rabbi Eli Levin and live music, the participants were dancing and the atmosphere was electric, even the weather turned mild for the event!
The menorah lighting took place in the evenings. During the day, Tzivos Hashem volunteers were in schools and community centers throughout London and the UK with the ''Olive Press,'' taking fresh olives and pressing them into olive oil which is traditionally used to light the menorah, commemorating the miracle of finding the oil in the Beis Hamikdosh.