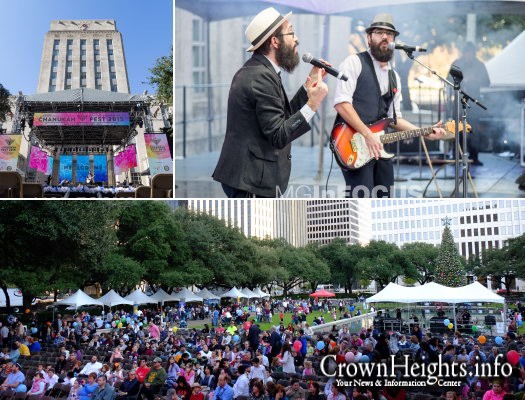 One of the largest Chanukah celebrations in Houston history took place on the steps of City Hall.
From The Jewish Herald-Voice by Michael C. Duke:
Thousands of people attended Chanukah Fest 2015 on Dec. 6 – a celebration that included carnival games, kosher food, crafts for children, tzedakah projects, a fireworks display, a public menorah lighting and a concert by Jewish rock band, 8th Day, who were joined on stage by hip-hop dance crew, Fly Dance Company.
Co-hosted by Chabad Outreach of Houston and the city of Houston, the event marked the 20th-annual public menorah lighting at Houston City Hall.
Elected officials who participated in the program shared messages of solidarity with the Jewish community and the Jewish state.
"As a Texan, I have always felt a special bond of affection and admiration for the Jewish people and for the other lone star state, the State of Israel," said U.S. Rep. John Culberson, who was given the honor of lighting the shamash on the 10-foot-tall menorah.
"G-d bless Israel, and G-d bless Texas!" he said.