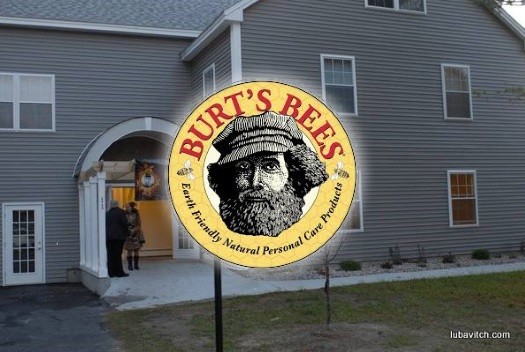 Burt Shavitz, the iconic face and co-founder of Burt's Bees, made his home in a former turkey coop in the woods of Northern Maine. Now, after his recent passing, his name will be emblazoned on the brand-new Chabad House in Portland, Maine: Burt's Campus.
How it comes to be there is a story worth the buzz, details of which were shared at Chabad's recent gala by co-founder Roxanne Quimby, who donated the funds for the Chabad House in Burt's memory.
From Lubavitch.com by Dvora Lakein:
Long before his eponymous lip balms made millions in international sales, and even before he began selling honey in glass jars on the side of a Maine road, Burt Shavitz was a photographer in Manhattan. He captured images of indigent black children in Harlem and rising stars,Malcolm X and John F. Kennedy. And then he followed his lens to Crown Heights, Brooklyn, where he shot pictures of the Lubavitcher Rebbe.
But photojournalism and urban life weren't cutting it for Shavitz, so in 1970, he loaded up his mattress and headed north. He learned the art of beekeeping and with a newly-acquired set of hive, mask, and smoker, Shavitz began the trek to Dexter, Maine. On the way, he ran into a swarm of bees: "My L-rd, this is an act of G-d! I can't turn this down," he later recalled thinking of his find. The bees quickly started producing honey which he sold out of the back of his yellow pickup.
More than a decade of small-time honey sales later, Shavitz met Quimby and the two became business partners. The extra wax from years of honey production were turned into candles, personal care products, and their most popular item: the lip balm in your purse.The business' name was derived from the title he had scratched onto his hives, Burt's Bees, to ward off would-be thieves.
It was slow-going at first, remembers Quimby. Their original factory, a deserted bowling alley, was waterlogged and rife with frogs. Their recipes dated back to the days of Cleopatra, Shavitz would muse, but their commitment to natural products preceded the public's interest. For many years, they peddled their handmade products at craft fairs and roadside stands, seeing little return on their investment.
At Chabad's dinner mid-November, Quimby, now a successful businesswoman and environmentalist, shared the "best business advice [she] ever got." It was from an unlikely source, Rabbi Moshe Wilansky, Chabad representative to Portland, who would drive 115 miles to visit the pair. At the time there were "absolutely no signs of future prosperity whatsoever," remembers Quimby. "The rabbi felt very sorry for us." To help them, or to share some inspiration, he taught them about a biblical law that they could play to their advantage.
"There's only one law that G-d gave us that you're allowed to test to see if it's really true," Wilansky told them about tithing. "You can give away ten percent of your income and you will be rewarded ten times over." Deciding she would try it, "I'm an experimental person," Quimby wrote out a check to the Chabad House for $400. "It was a very big, scary thing to do," she admits.
But they didn't have to wait long to harvest the blessing. "Within a few days, we got a $4000 order on our fax machine.
"Oh my goodness, this really does work, I've gotta test this one over and over," she thought at the time. "And sure enough," she declared, "it's an absolute in my life, tithing."
It's the gift that keeps on giving. "As a matter of fact, just a day or two after our dedication dinner I received a full price offer on a home I had for sale which has lingered on the market for two years!," Roxanne shared with Lubavitch.com. "How's that for affirming the value of tithing?"
Wilansky didn't only travel north to share his business acumen. The rabbi originally met the two when Quimby was contemplating a bar mitzvah for her twin children. "Burt, my partner, mentor, and muse suggested that it was time for them to learn Hebrew and be acquainted with the faith that meant so much to our family," Quimby offered during her address. "I thought that would be rather impossible up there in the middle of the woods. He told me about this traveling rabbi who made house calls. I was hesitant. I thought I would be judged that I was not observant. But it was absolutely amazing, the rabbi accepted us for who we were."
The "traveling rabbi" visited frequently over the years, bringing with him tefillin, a lulav branch for Sukkot, and kosher food. He affixed a mezuzah to Shavitz's small home and taught him how to blow the shofar. "He loved blowing the shofar," Wilansky recalls. "He wasn't really a shul-goer, but he believed in yiddishkeit and he was always proud that he had taken pictures of the Rebbe."
In a reflective moment following the dinner, Quimby commended Rabbi Wilansky "for reaching out to us during our years in rural Maine. He was always in touch, traveled long distances to visit, and even officiated at my children's bar mitzvah in a location 150 miles north of Portland. Quite a drive!"
Larraine Brown, Executive Director of the Restorative Justice Project of the Midcoast, was a guest at the dinner. Afterwards, she commented, that "it suddenly dawned on me that the Jews are really one big family and what the Wilanskys did for almost 30 years was to be the best hosts in Maine for their long-lost family members."
Richard Podolsky, a founding staff member of The National Audubon Society's Project Puffin, was one of the few Jewish environmentalists at the dinner. He later wrote that Quimby's speech "was especially meaningful to me since it's not often that I'm able to combine my Judaism with my commitment to environmental conservation. Listening to Roxanne talk about her deepest value system in a Chabad setting made me feel very proud to be a Jew."
Chabad donor and Wilansky family friend Steve Shaw saw the event as an eye-opener for "people from the most important environmental organizations in Maine who came out of their gratefulness for Roxanne's support as a major philanthropist and conservationist, but didn't know anything about Chabad. This introduced them to Chabad, and it was an uplifting and beautiful event."
Shavitz, "in his own way, was very religious," Quimby asserts. "The Chabad House seemed like a natural fit to me to create a memory in Burt's name for this wonderful new home, for this wonderful group of people who have served our community in such a non-judgmental and compassionate way."
The new Chabad House serving Greater Portland, an area that includes approximately 1200 Jewish families, opened for the High Holidays this year. The center sits on two acres of land and includes a synagogue and family and guest quarters. "The new Chabad House gives us life, physically and spiritually," Wilansky shares. "We appreciate Roxanne's long-time friendship and her support in making this dream a reality."