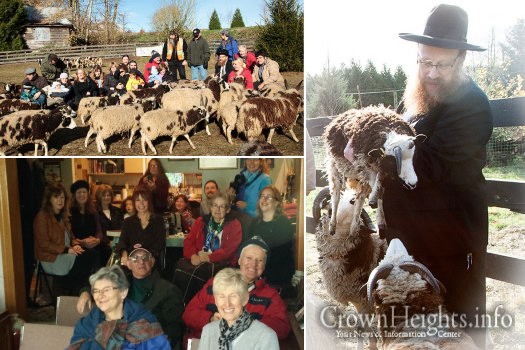 The story in this week's Parsha of Yaakov's various forms of spotted sheep came to life for Vancouver Shliach Rabbi Falik Schtroks and several members of his congregation, with a visit to a special farm where these rare 'Jacob's Sheep' are bred.
Rabbi Schtroks utilized the visit to give over the Chassidic explanations of what Yaakov was doing when breeding sheep with Akudim (ankle bands), Nekudim (spotted), teluim (blotches) and berudim (bands).
"The most important thing about this entire excursion is that it was possible to take some of the lofty concepts within Chassidus and convey them to an excited and elated audience who understood by the time they left how to internalize the message portrayed on those sheep they had seen and touched and held", said Rabbi Schtroks.
To download a class given by Rabbi Schtroks on this subject, click here.