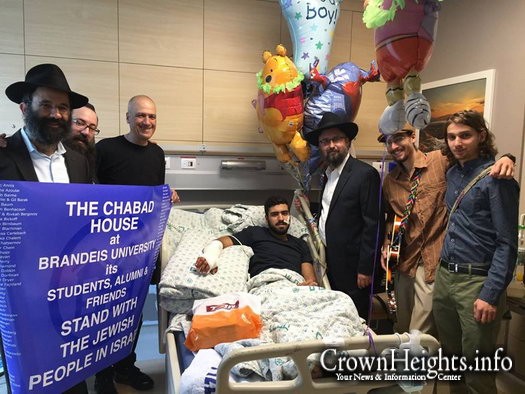 Despite the Terror, They Came to Show Solidarity
For many people, this would not be the time to visit Israel. As terror rages across the length and breadth of the country, there is fear everywhere.
But for Rabbi Sholom Raichik of Chabad of Upper Montgomery County in Maryland and Rabbi Peretz Chein of Chabad at Brandeis University, this was exactly the time to come to Israel.
Working with Chabad's Terror Victims Project (CTVP), both brought delegations to visit with victims of terror – to show their love of Israel and their solidarity with the people of Israel.
Accompanied by CTVP, Rabbi Raichik's delegation spent 36 hours in Israel. They came straight from Ben-Gurion Airport to Soroka Medical Center to visit those who had been wounded in the tragic attack in the central bus station in Beer Sheva, in which a 19-year-old IDF soldier was killed.
Among many very touching moments that occurred during this trip, one stands out. They went to the grave of Alon Guberberg who was killed in an attack on a bus in Armon Hanatziv. Rabbi Raichik, "He has no family in Israel to visit his grave.  We went today and had a Minyan to say Tehillim and Kaddish marking the end of the Shiva."
These visits brought hope, encouragement, and the love of all the Jewish people to those whose lives have been shattered in this latest round of violence. The appreciation of the victims and their families was profound. Many had tears in their eyes as they remarked on the courage of this delegation to come to Israel at such a time and to come to see them.
Accompanied by CTVP, Rabbi Peretz Chein brought his delegation from Brandeis University, with students publicizing the trip, raising money for it, and bringing a banner with many names of students at Brandeis who stand in solidarity with the Jewish people of Israel.
On their second day in Israel they went to Hadassah Ein Kerem Medical Center to spend time with victims of terror and their families throughout the hospital.
They ranged from an elderly man who had been stabbed near his brain and was so grateful that he had not been killed – to a soldier describing how he had been attacked by a terrorist – to bringing comfort and hope to a family whose son was in a coma – and to an elderly lady whose husband of many decades had been shot and stabbed and was also in a coma.
Each stop along their way, they sang inspiring songs for those they were visiting and it was possible to see on their faces how much this meant to the visitors and visited.
Both groups came back deeply moved by what they had experienced and grateful to Chabad's Terror Victims Project for enabling their visits to take place.
Not everyone can go to Israel at this difficult time, but you can directly help.
Click here to make a generous donation to Chabad's Terror Victims Project today. CTVP has staff and volunteers all over Israel bringing financial, emotional and practical support to all those who are suffering from terror.