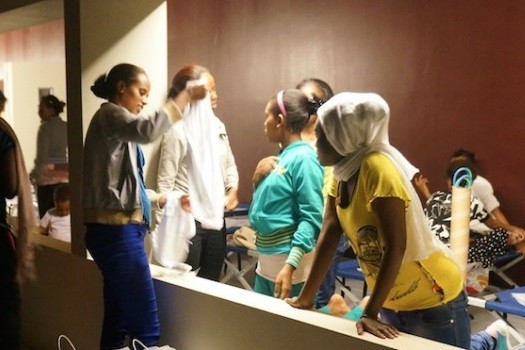 It's not every day that Muslims break their Ramadan fast with a kosher meal delivered by a Chabad-Lubavitch soup kitchen. 
But for Adil Rabhi, who has partaken of the certified kosher pasta and snacks for the past week, it's becoming the norm: Since Monday, Rabhi, a 32-year-old Moroccan immigrant who has lived in Italy for the past 13 years, has spent his free time volunteering at the Memoriale della Shoah di Milano (Milan's Holocaust Memorial).
Seventy years ago, Platform 21, the vast cavernous space underneath the city's Central Train Station where the Holocaust Memorial now stands, was used to load Jews in secret onto trains destined for the death camps. This week it was turned into a shelter to accommodate the influx of men, women and children who have fled war, hunger and persecution in Africa.
In the past few weeks, thousands from Syria and Eritrea have traveled through chaotic Libya to sail across the Mediterranean Sea and reach Italian shores. Over 55,000 Africans have illegally entered Italy since the beginning of 2015, and with no friends or families, many sleep restlessly in train station corners, hoping to continue their journey to northern European countries.