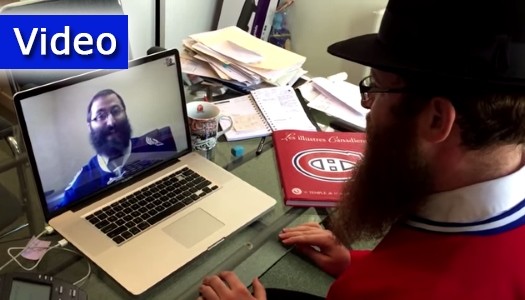 Rabbi Yisroel Bernath, director of Chabad NDG in Montreal, "reluctantly" kept his word and donned a Tampa Bay Lightning jersey to deliver his Shabbat sermon this past weekend after losing a "spiritual wager" with a colleague in Florida.
From the Canadian Jewish News:
The friendly bet began when the Montreal Canadiens, of which Rabbi Bernath is a devout fan, were down two games to none in the Stanley Cup semifinals.
Prayer seemed to be the only answer – that and social media. He posted his wishes of "good spiritual vibes" to the Habs on his Facebook page.
Friend Rabbi Mendy Dubrowski of Chabad of South Tampa responded on his wall that such good vibrations should not be wasted.
They set up a Skype meeting to discuss the issue further. With a phone video camera rolling, the rabbis commiserated just before the third match. Rabbi Dubrowski is a faithful Lightning fan and is friendly with the team's owner, Jeffrey Vinik, who is Jewish.
Both wearing their team's jersey, they tossed around ideas. They agreed that when the odds were against them, Jews have always turned to prayer.
But which prayer? Rabbi Bernath suggested the Shema because it is the fundamental prayer expressing belief in God.
They then decided to encourage as many of the teams' respective Jewish followers to perform a mitzvah and upload a video of themselves reciting the prayer and post it on Facebook or Twitter at #HabsShema or #BoltsShema, and tag their friends. And it was "game on!"
Perhaps to his regret today, Rabbi Bernath went a step further and suggested a personal wager between the two of them about wearing the opposing team's jersey.
"Sometimes I get these crazy ideas," admitted Rabbi Bernath, who also created the "Quebec kippah" at the height of the values charter debate.
Rabbi Dubrowski readily agreed, confidently offering to send his own jersey up to Montreal to collect his bet.
The 2-1/2-minute video went viral on YouTube and Facebook and, if it is any consolation, the Montreal rabbi won in the Shema contest.
More than 300 Canadiens fans prayed for a miracle, while only 50-60 Lightning supporters did likewise, said Rabbi Bernath.