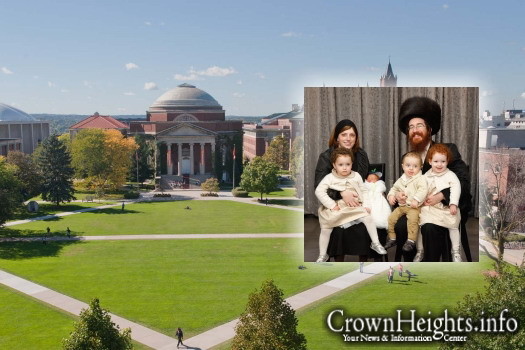 Syracuse University. Inset: The letter's author, Yerachmiel, with his family.
Letter: Even When You Think You Fail, You Succeed
The following heart-warming letter was sent to Rabbi Yaakov T. Rapoport, Shliach to the University of Syracuse, by a former irreligious student who briefly attended a Shabbos meal at his home back in 1996. The young student thought the customs were strange, and barely made it past the soup course, but that brief encounter had an everlasting effect:
R. Rapoport,
In the summer of 1996, I was a socially awkward, bright, young student in the Pre-College program at Syracuse University.  I was 16 years old at the time.  I had long hair that I wore in a pony tail, wore a lot of tie-dye, and I had the requisite matching braces and acne to complete the profile.  My whole essence cleared screamed "Yid!"  You introduced yourself to me one day.  I think the meeting was in the cafeteria, and I'm pretty sure I was eating a ham sandwich.  You invited me for what was to become my first Shabbos experience.
I remember the experience extremely well.  It was the summer and all of the regular students were away.  We didn't have a minyan.  We didn't even have half a minyan!  It was just me, a grad student, and you.  You helped me fumble my way through the service and then took me back to your house for dinner.  The grape juice seemed normal enough.  Who doesn't like grape juice?  But then the hand washing…weird, and then brachas on food in Hebrew…weird.  And yikes, there were kids jumping all over me from every direction!  This was way too weird!  This was definitely a cult!  I think I made it to somewhere in the soup course and then I ran out.
About ten years after that first experience, after a lot of interesting twists and turns, I finally got myself to Yeshiva in Israel and started my journey to frumkite.  It's obviously a long story.  Much longer than I can write in an email.  Today, I am 34 years old.  I live in Modi'in Ilit, Israel.  I am married and, bli eyen hara, we have four children learning in Yiddish chaddarim (picture attached, obviously).  I thought of you with an incredible feeling of hakaras hatov this Shabbos, washing my hands, drinking grape juice, and with kids jumping all over me from every direction.  Hashem has a beautiful sense of humor!
I wanted to tell you three things: (1) Thank You! (2) In your line of work, even when you think you fail, you succeed…and sometimes you even get to see the peiros in this world! (3) I don't remember anything that you said to me that Shabbos, but the seeds of emes that you planted somewhere deep in my neshama are growing strong now.  Just took a while.
Thank you!
Yerachmiel Elimelech Weiss
P.S. Please let me know the next time you're in Israel!