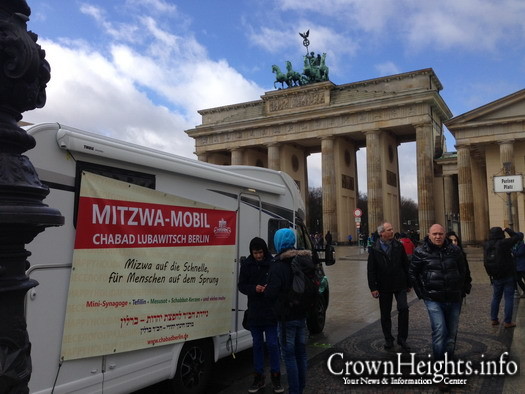 For the first time in Germany, a 'Mitzvah tank' is bringing the joy and warmth of Judaism to the streets of Berlin. In honor of the 113th birthday of the Lubavitcher Rebbe, the Mitzvah tank is standing in front of the Brandenburg Gate and other central places in the German capital, reaching out to Jews and bringing them closer to their roots.
The "Mitzvah Mobile" – a "synagogue on wheels" – was an idea, inspired by the teachings of the Rebbe to engage Jews in acts of tradition and good deeds. Today, for the first time in Germany a Mitzvah Mobile is rolling in the streets of Berlin inviting Jewish people to partake in their heritage on the eve of Pesach.
The word "Mitzvah" means a "commandment" of the Torah in Judaism, but also carries with it the connotation of a good deed. Chabad Jewish Educational Center Berlin, which is behind this initiative, is handing out brochures or cards with information about performing Mitzvos, assisting those who are willing to perform prayers, giving out candles and candle-lighting information to women and girls to light in honor of the Shabbat.
"It is an unprecedented action in the heart of Germany and we are very happy to support our Jewish brothers and sisters with maintaining their heritage especially now, in the controversial times, when the possibility of keeping Jewish identity in the streets of Berlin is doubted" – shares Rabbi Yehuda Teichtal, the head of Chabad Berlin. "Pesach is an emotional Jewish holiday; as we celebrate the freedom of our people, the Mitzvah Mobile in the streets of Berlin proves that Jews do belong to this country while still observing our traditions."
The Mitzvah Mobile will be traveling throughout the German capital until Pesach, on Friday, April 3rd. For more information please contact Chava Pipenko at chava@chabadberlin.de.