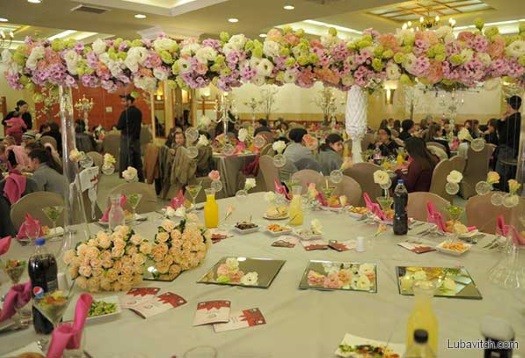 The tables are ready for the grand celebration.
36 Orphaned Bas Mitzvah Girls Celebrate in Jerusalem
For the families with a deceased parent, celebrating joyous occasions could be emotionally and financially difficult, to make it easier during these times, Colel Chabad, marked the Bat Mizvah of thirty-six orphans, in a joint celebration in Jerusalem.
On February 15th, the girls, their family and friends were treated to an all out bash, with music, lots of dancing and a theatrical show. It also included professional portraits and family pictures and an all out catered meal. The girls also received a special gift on this occasion.
"The world gains strength from you young women,"Yemima Mizrachi told the attendees. "When we see your beautiful smiling faces, glowing from this special celebration, and we know all the hardships you have been through, we can't help but feel that we must smile and be happy as well."
Colel Chabad is in touch with 300 families year round, providing them assistance with food, clothing, educational and social services. "It's heartwarming to see the joy on the faces of these young women and their families in reaching this momentous occasion," said event organizer Amram Blau.
"When Colel Chabad called me before my son's bar mitzvah last year, I was overcome with emotion. I couldn't even imagine how I was going to plan for the ceremony," said Almira, a mother of six who lost her husband ten years ago. "With my daughter's Bat Mizvah, we are overwhelmed with thanks for those who are so generous and thoughtful to children who lost their fathers."
Lost in her day to day struggles without a father in the home, Almira thought she would have difficulty in celebrating her daughter's Bat Mizvah. "The joy of 36 girls, who were able to laugh and dance together despite all of our pain is truly the best gift I could have ever asked for."