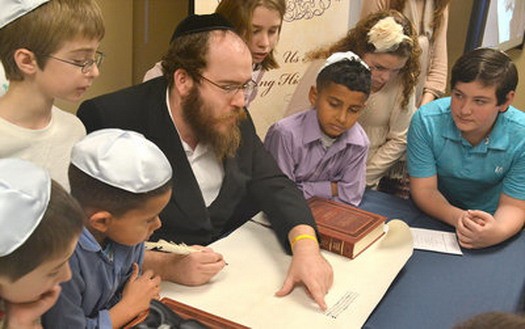 A Jewish community in west Cobb County, Georgia, gathered earlier this month to celebrate inscribing the first letters of a Sefer Torah, which will be finished during the next year by a Sofer in Israel.
A group of about 40 people attended the ceremony at the Chabad Jewish Center of West Cobb & Kennesaw State University on Shiloh Road.
The scribe, Rabbi Yochanan Klein, wrote the first few letters of the Torah on parchment made of cowhide with a goose feather pen and ink made mostly from walnut oil Sunday morning while members of the Jewish center and their children watched over his shoulder.
Klein said after he finished Sunday, the scroll will be sent to Israel where a Jewish scribe will write the remaining of the total 304,805 letters in the Torah.
Attorney General of Georgia Sam Olens, who is Jewish, attended the ceremony and said watching Klein write the first few letters of the holy book is the most important part of creating a Torah for the community. Olens said witnessing a scribe writing letters of the Torah is one of the 613 commandments Jewish people are urged to follow.
"It's not that it's so special to have your own Torah. It's special to witness that commandment. It's special to be able to witness that experience," Olens said.
Olens said writing the Torah is an honor, something Jewish scribes are trained to do as a profession.
"I'm not sure there's more than 100 people in Israel who are given this honor to be able to write the Torah," Olens said. "It's because the letters have to be perfect — the way they write them — or they have to redo that whole page."
When the Torah is finished, it will contain the five books of Moses — Genesis, Exodus, Leviticus, Numbers and Deuteronomy — each written by hand in a regimented style that defines the size and space between each letter on the page, said Rabbi Zalman Charytan, who leads the Jewish center in west Cobb.
Charytan said the Torah is important because the knowledge it contains is what ties the community together.
"The letters of the Torah, which is what links all Jews, and links the Jewish people to God and his commandments, in other words, the letters representing the Jewish people — these will remain forever," Charytan said.
Paola Epstein, a teacher at Dawson County High School who lives in Holly Springs, said Sunday was an important day for her as a Jew, but it was also a defining moment for the center.
"It's one of the most important moments for a Jewish community," Epstein said.
Epstein said when the Jewish center gets the entire handwritten Torah back after the scribe in Israel finishes a year from now, her community will be able to learn about its religion better.
"The Torah contains the laws and ways of living for Jewish people," Epstein said. "When you have your own Torah, you really are a community, and you can gather and study and learn how to become a better Jew."
Olens said the celebration was an important one for Cobb's Jewish community, which he said is growing.
"I couldn't have asked our community in Cobb to have been any more open to me, and they know I'm Jewish and they have always from the very beginning treated me with respect, so my experience has been fantastic. … Cobb's been very welcoming. Unfortunately that same welcoming isn't found elsewhere," Olens said.
Charytan said he was proud to be able to bring the Jewish community together around its own Torah.
"What makes this community Torah so special is because through writing this Torah we are going to be bringing blessings to our entire community, and to the entire west Cobb and KSU area," Charytan said.