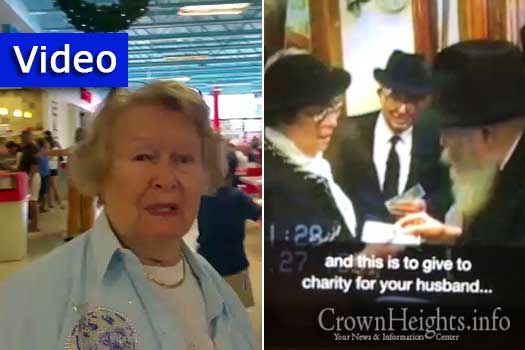 Following a Menorah lighting in South Florida, a woman approached Shliach Rabbi Shuey Biston and told an amazing story about a Brocha she received from the Rebbe for her husband who was to undergo a difficult surgery. Video of that encounter shows the amazing connection from the past to the present.
This amazing encounter took place on Thursday afternoon. Some 350 people – mostly senior citizens – attended Chabad of Parkland's annual Menorah Lighting at the food court of the Festival Flee Market in Coconut Creek, FL.
Following the lighting, Shluchim were distributing Menorah kits, dreidels and doughnuts when a woman approached and said that she met the Frierdiker Rebbe and also received a Brocha from the Rebbe before her husband was to go through a very dangerous operation.
On camera, Mrs. Berkowitz related how she met with the Lubavitcher Rebbe and told him of an operation her husband was to undergo and that it was a very difficult one, and she asked for a Brocha. The Rebbe responded not to call it a difficult operation – rather it should be an easy operation.
And so it was, after the operation he made a miraculously quick recovery.
One day after video of the encounter began circulating, another video of the Brocha itself – which occurred at Sunday dollars – began circulating as well. Accompanied by billionaire Sam Domb, Mr. and Mrs. Berkowitz are seen asking the Rebbe for the Brocha.