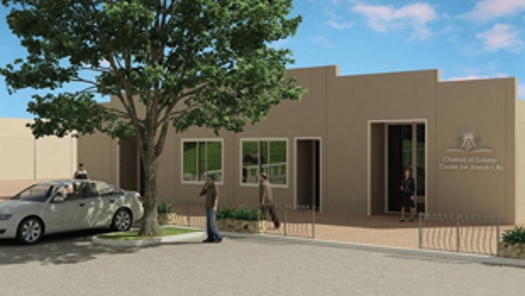 Architect's rendering of new Chabad building in Vacaville, CA.
Chabad of Solano County, California, issued a difficult challenge last week: raise $200,000 in 24 hours so that it could make a down payment on a new building in downtown Vacaville.
Thanks to a matching fund that quadrupled every donation, Chabad reached its goal, raising nearly $204,000. The 10-room facility is now in escrow, with closing expected within a few weeks.
Since 2009, Chabad of Solano has been based out of the Vacaville home of Rabbi Chaim Zaklos and his wife, Aidel. When an 8,500-square-foot former church in foreclosure came on the market for $850,000, the couple put in a bid but needed a down payment to have a chance.
Zaklos promoted the fundraiser to 400 people through email, and posted it on Facebook, too. Chabad supporters Bernice Kaylin, Joe and Kelly Fine and Gail McCain offered to quadruple donations raised in a 24-hour, all-or-nothing effort ending Dec. 4.
Had the effort fallen short of the target, all donations would have been returned, but that didn't happen as more than 200 people — most of them first-time Chabad donors — reached into their pockets.
"We produce best under pressure, and for those 24 hours we had people following [the tally] to the minute," Zaklos said. ""It was a reflection of people's enthusiasm."
The 10-room building includes a social hall and sanctuary that can seat 300. Once the property is renovated and furnished, the rabbi estimates final costs will hit $1 million. He hopes to hold High Holy Day services there next fall.
Zaklos said the fundraising effort had things "rocking and rolling for 24 hours." And when the goal was reached with only 34 minutes to spare? "People called me to say 'Mazel tov' as if I had just married off my child," Zaklos said.