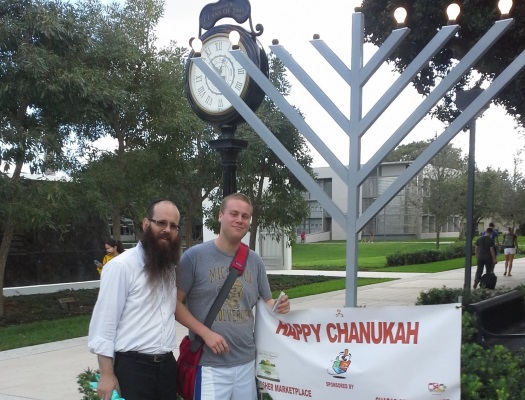 Last Chanukah, someone stole the menorah from the Boca Raton Chabad Student Center that for three years lit up the campus of Lynn University during Hanukkah. It has never been recovered.
From the Florida Sun-Sentinel:
But Rabbi Boruch Shmuel Liberow, who runs the Chabad Student Center, is over it. And now he's back with a 12-foot one for this year's observance that starts sundown Tuesday.
"I want to spread even more light," he said. "In the Hasidic faith, a little bit of light can push away a lot of darkness. It's even more so when you spread more than a little light."
This year, the Chabad Student Center is feeling that message so strongly that the center purchased hundreds of small menorahs for Rabbi Liberow and his students to pass out to hospital patients and whoever wants them. It's an entire Hanukkah set ready for celebration, from candles to candelabrum to dreidel.