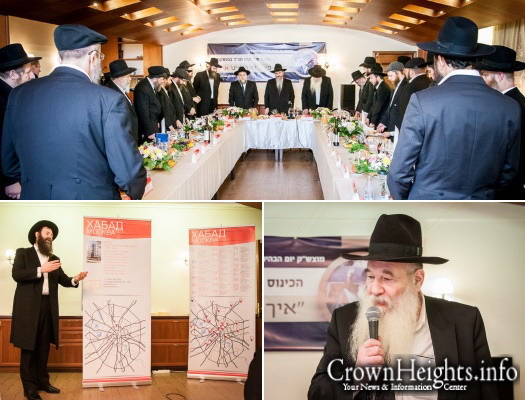 Photos: Moscow Shluchim Gather
The leaders of 24 Chabad centers in Moscow, Russia's capital, gathered this past Motzei Shabbos for an evening of insight and inspiration.
The gathered Shluchim were addressed by Russia's chief rabbi, Berel lazar, who spoke of the need to increase their efforts on behalf of Moscow Jewry, by reaching out even further and building  yet more Jewish institutions in the city.
The conference was addressed as well by Rabbi Yitzchok Kogan, head of Aguch in Russia; Rabbi Alexander Boroda, head of the Federation of Jewish Communities in Russia; Rabbi Shneur Halperin, head of Tzach in Moscow; Rabbi S. Deutsch, a local Shliach and Rabbi Mordechai Weisberg, director of the Marina Roscha synagogue and Jewish community center.
Photos by Levi Nazarov