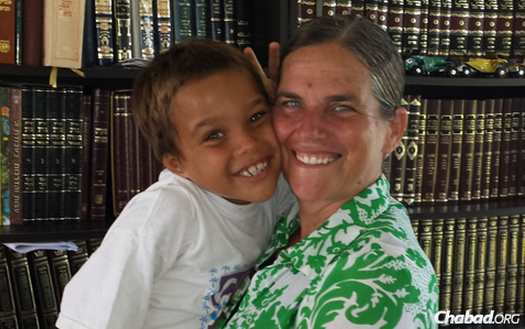 Naomi Burn and her 7-year-old son Khalil Elijah, who experienced his very first Passover seder last week in Mexico.
Khalil Elijah Burn went to his first seder this Passover. He and his mother, Naomi, who live in Belize, were guests of Rabbi Mendel and Rachel Druk, co-directors of Chabad Jewish Center of Cancun in Mexico.
"He's extremely receptive to Jewish teaching, and I wanted to reward and encourage that," Naomi Burn said of her 7-year-old son. She added that she wants him to feel connected to the Jewish people and to know that the story of the liberation of the Jews from Egypt is his story, too.
They were just two of hundreds of people there—Jewish residents, tourists and other invitees—who had come to spend a Passover seder with the area's Chabad. Around the world, Passover was underway, with tables set and doors open for holiday celebrations and festive meals.
Burn had first written to Rachel Druk in 2011 after being connected through a chain of correspondence that started after her mother sent her a photography book called "Jewish Mothers: Strength, Wisdom, Compassion." One story in the book that spoke to her strongly was that of Chanie Baron, a Maryland-based rebbitzen. Burn contacted her, and Baron responded.
As their conversation evolved, Baron encouraged her to get in touch with the Chabad closest to her, which wound up being in Cancun, a world-famous tourist destination. She finally got in touch, and the exchanges became frequent.
Since her village in Belize has no Internet access, Burn said she "lives off" Chabad.org's "Daily Dose" emails—words of inspiration and wisdom adapted from the teachings of theRebbe, Rabbi Menachem M. Schneerson, of righteous memory—and other small Chabad.org snippets of learning that she accesses every few days in the moments she can afford at an Internet cafe. She has been studying Judaism and sharing it with her children this way for quite some time now, while continuing her correspondence with the Druks, who have offered her invitations to visit.
This Passover, it all came together.
The rabbi and his wife helped her arrange accommodations and set her up for meals. Burn,who traveled from Belize to Mexico via overnight bus, said that her mother helped her finance the trip. "I've had a deeper desire to perform themitzvot and to live my life in a way that's pleasing to G‑d," she said.
In Cancun, in a courtyard surrounded by greenery, were dozens of round tables set with white tablecloths and floral centerpieces, bottles of wine, water and grape juice, and all the accoutrements for the seder plate. Burn said she met Jews from Romania, Russia and Australia—even Belize—and basked in the traditional Jewish experience.
The guests, along with their children, were entranced by Khalil, who lives in a remote village in Belize with little, if any, access to the Internet, air-conditioning or electronic gadgets. Shoes are extraneous, and kids learn to be independent from a very young age. After climbing a tree to pick some coconuts while in Mexico, the boy showed others how to crack them by hand.
'A Sense of Possibility'
Burn, originally from Los Angeles, grew up identifying Jewishly, but as an adolescent moved away from Judaism for nearly two decades. But she always remembered and cherished Passover seders.
Without a local community or synagogue to fall back on in Belize, Burn has become committed to building Jewish experiences for her children—she also has two daughters, ages 12 and 16, but couldn't bring them on this trip—in the ways that are accessible to her. She makes her own candles forChanukah and baked her own matzah from scratch for Passover.
"She has been on a remarkable journey to connect with authentic Yiddishkeit," said Rabbi Druk, adding that she's been working to involve her children as well.
And what she'll take back, said Burn, goes far beyond the seder experience: "There's more a sense of possibility … that I can be connected once again with the Jewish people after having separated myself for such a long time."
On a more basic level, Burn said she also hoped to take a box of matzah home for her younger daughter, who has never seen the packaged product. "That's the thing she's latched on to, that she can't wait for Mommy to bring back for her to see—a box of matzah," she said.
This is what the Rebbe had in mind, said Druk. "One Jewish family in a far-off land so secluded with very little Jewish exposure can often be overlooked. The Rebbe taught us the value of the individual—the one neshama [soul] that can complete the puzzle."