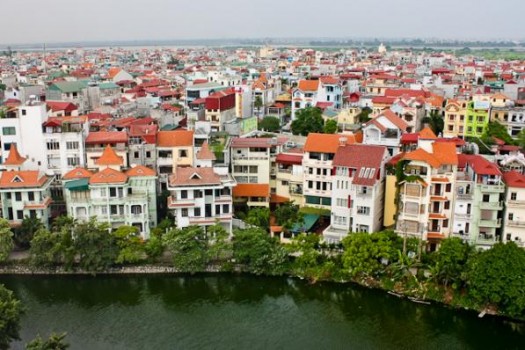 Hanoi, Vietnam.
Radical Relocation: Chabad Couple Moves to Hanoi
They both grew up blending in easily—he in Brooklyn, she in New Haven. Jewish schools, kosher stores, family and like-minded friends aplenty. Now, with a grant from the Rohr Family Foundation, Levi and Mushky Laine, with their 11-month old baby girl Rivkah, have left it all behind for Hanoi, Vietnam.
They don't speak the language, eat the food or share the culture. In every way, they will stand out.But they'll turn that to their advantage as they embark on a lifelong journey of Jewish leadership and community building in Vietnam's capital. This development, explained Rabbi Moshe Kotlarsky of Lubavitch World Headquarters, was a response to a request by local Jews for a Chabad Center in the city.
Once the capital of all French Indochina, Hanoi, in the midst of a building boom, is a rapidly developing city. Business opportunities are a draw for a small number Jews, and others are there as diplomats. All in all, it adds up to about 100 local Jews —a small number, but interested enough to have registered a demand for Chabad to install full time, permanent representatives.
"It's true that there are only 100 Jews here, but that's not the same as 100 anywhere in the U.S.," says Mushky, 25. "Here, every Jew is thirsting for Yiddishkeit, even those who have never affiliated want a connection."
This observation is what made this Southeast Asian city—"one of the last places in the world we ever imagined we'd end up in" —attractive to this couple motivated by the ideals and vision of the Lubavitcher Rebbe.
"Logically this makes no sense—you don't choose to live in Hanoi to raise a family, but because we were both raised with a passion for shlichus, we feel privileged are excited at the opportunity to take this blank slate and create a warm Jewish community in Hanoi."
During the last seven years, Rabbi Menachem Hartman, Chabad representative in Ho Chi Minh City arranged periodic visits by rabbinical students, mostly to help the locals conduct Passover seders and High Holiday services. Then the rabbi began fielding requests for a proper Chabad center in the city.
One of their first priorities is the opening a Hebrew school for the 25 local children. "Anywhere else,it might take a long time for a new Hebrew school to reach an enrollment of 25 children, whereas here, every one of the children will be attending," Mushky says. That's 100 percent of the local Jewish children.
The Laines are also getting their Friday night Shabbat dinners started immediately. "Jews in Asia feel like they are far away and they yearn for something familiar, something from home to connect to," says Levi. "Just sitting together with other Jews is a big thing here.
Shabbat will become a focus. "We aren't expecting to have a minyan at first, but within a few weeks we should have a minyan Friday night."
After meeting with some of the local Jews when they visited Hanoi several months ago, the Laines found an interest in adult education. They'll be offering one-on-one and weekly classes. "People here are anxious to learn the basics of Judaism, and we're ready to work with them."
The new Chabad representatives will also be reaching out to Jewish travelers and Israeli backpackers.