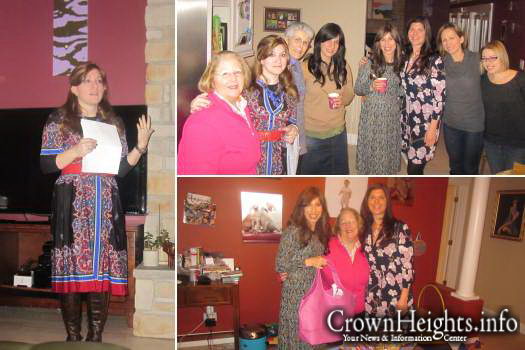 Chabad of Orange County's Jewish Women's Circle, led by Chana Burston, recently met at the Goshen, New York home of Michael and Corbett Hoffman for an evening of sharing, learning and giving.
The evening began with Burston welcoming the crowd of ladies who had come from around the county.  She introduced parenting coach and lecturer Chani Goodfriend, of Rockland, who presented an in depth seminar of "How to Raise a Confident and Balanced Child."
"When we interact with our child, we want to be nurturing," Goodfriend explained.  "We want to impart information or behavior that will help our child to grow into a better person. Once a child feels nurtured and whole, he can begin to move from survival – the need to fill in the constant gaps – to living. Living is when he is able to grow and recognize his self-value and self-esteem."
Burston also shared insights on education and explained that because of the Lubavitcher Rebbe's monumental contribution to education, the United States Congress established "Education and Sharing Day U.S.A." in honor of the Rebbe's birthday in 1978. "The Rebbe emphasized the importance of not only teaching morals and ethics in addition to knowledge, in order to raise future generations of upstanding individuals."
Participants then packaged 18 beautiful gifts to donate to a women's shelter. Chocolates, cookies, scented candles, hair accessories and makeup, as well as a variety of other items were packaged. The project was headed by Stacey Finkelstein of Middletown.
Afterward, all enjoyed a piping hot Soup Bar with condiments, salads and desserts.
"It was a special evening with thought provoking ideas and delicious food," said Stacey Finkelstein.