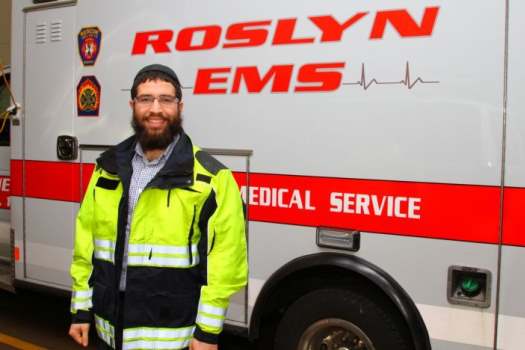 As a rabbi with the Chabad of Roslyn, Yaakov Wilansky spends most of his time with the congregants he mentors in the local orthodox community.
But if he finds himself with a free moment and an incoming call on his cellphone, Wilansky serves his neighbors another way – beard, black wide-brimmed hat and all – as an emergency medical technician with the Roslyn Rescue Hook and Ladder Fire Company.
"Even though I'm really busy as a rabbi in the community, I have to show that you can always do a little extra for people and for yourself," said Wilansky, 26. "A rabbi is a role model, a living example, and hopefully I can inspire others."
Wilansky, a Montreal native, grew up learning first aid and CPR at summer camps he attended and later worked at as a counselor.
The son, grandson and brother of rabbis, Wilansky said he was always meant to follow in his family's footsteps in service to his religion and community.
"If someone needed a place to eat, if someone needed a place to sleep, we'd be the first to offer any help," Wilansky said. "Being a rabbi isn't just about helping spiritual needs, but also physical needs. My father really pressed that to us."
Wilansky finished primary school in Montreal in the mid-2000s and came to New York to stay with family and study the rabbinate.
When he finished high school, Wilansky took a year-long pilgrimage to Israel, then spent the next year as a rabbinical intern in Los Angeles before returning to New York for his final year of schooling and exams.
In 2009, Wilansky was ordained a rabbi. In January 2010, he began EMT training courses.
"I've always been one to want to help out in a crisis, knowing first aid and CPR, so I knew I wanted to do more," Wilansky said. "When the opportunity came for me to become an EMT, I grabbed it."
As a rabbi, Wilansky works with the teenage congregants who volunteer with the Chabad's Friendship Circle program to mentor children with special needs.
"What happens is everybody gets something out of it," Wilansky said. "The parents get some time off, the child gets a buddy, and the teen learns responsibility and the idea that he can be an important part of a child's life."
Wilansky said he is currently working on scheduling the Friendship Circle's upcoming charity walk that will take place in Roslyn this May.
If he gets a call to provide medical assistance, Wilansky said he is able to respond quickly from his home within the Village of Roslyn.
Roslyn's location near major highways means EMT services are called more often to respond to car accidents, Wilansky said, but he has provided assistance to his share of fires too.
"I can't be at the station 24-7, but when I'm between hours and am able to respond to a call, I'm full throttle," Wilansky said.