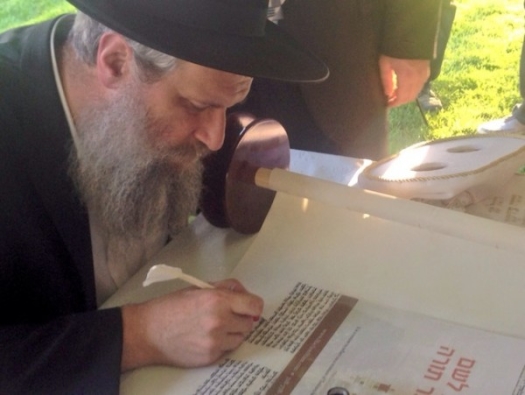 The Jewish community of the Okanagan Valley in British Columbia, Canada, and specifically the members of Chabad of Okanagan, got to take part in a once in a lifetime experience to help complete a Torah, something all members of the Jewish faith hope to do at some point during their life.
"The Torah is the heart of Judaism, it is our backbone, our whole life revolves around it… it is a user manual for a Jew, how a Jew should live life according to God," explains Chabad of Okanagan's Rabbi Shmuly Hecht. "Most of the people here are in their 60's and 70's and have never done it before in their lives."
Rabbi Hecht says the Torah is very expensive and labor intensive.
"The scroll takes about a year to write and is written by a scribe who is trained and ordained to be able to write the special Torah calligraphy art. It is written on parchment made from the skin of a kosher animal with special ink and a quill; meant to be traditionally, exactly the same way it has been written for the last 3,500 years."
Several dozen people were able to mark the document, each one expressing excitement and gratitude at being able to add their ink to the holy scroll.
The head Chabad Rabbi to British Columbia, Rabbi Yitzchak Wineberg, says the Torah represents the eternity of the Jewish people.
"The Torah is over 3300-years-old and it has been with us anywhere and everywhere, good times and hard times," he says, while adding that the ability to partake in the special religious event is, "one of the greatest honors you can have."
Due to the time and labor investment in the document, a new Torah can cost anywhere from $30,000 to $50,000. Local businessman Stephen Cipes gifted the synagogue with this Torah that cost him about $40,000.
"I didn't even know Chabad of Okanagan didn't have their own Torah when I made the decision. It was like a jolt that went through me that at that moment, was the occasion to provide the Torah. I didn't even know how much it would cost me but it didn't matter, I made the decision, it was a feeling," shared Cipes.
Looking over as his son takes the chance to sign the Torah, Cipes remarked, "I feel like we are participating in the original enthusiasm and passion and feeling that Moses had when he was receiving the laws."
After the Torah got the final touches from the scribe — who was brought in from New York to do the final lettering on the 600,000 character document — it was wrapped and carried to the synagogue under a chupah while the crowd danced and sang.
The newly finished Torah will make a permanent home in the Chabad of Okanagan Synagogue.
It is the first one to be completed in the Okanagan Valley.