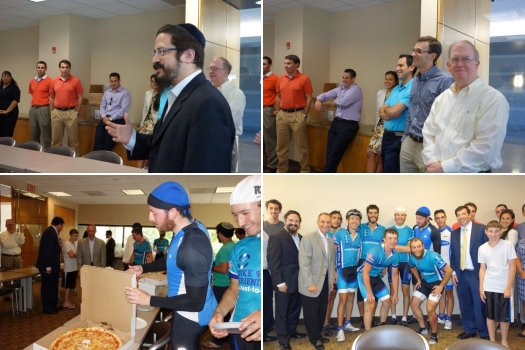 Cross Country Bikers Near East Coast
With virtually no fanfare, about a dozen cross country bicyclists rode into the parking lot of Investors Bank headquarters in Short Hill, New Jersey at about 2:40 p.m. on Friday, Aug. 2.
Outside, there were no cheers to greet them as they rode quietly up to the building looking hot, sweaty and fit. The men were on the next to last leg of a bicycle ride that started on June 16, in San Diego, Calif. The ride will end in Sea Gate, Brooklyn, on Sunday, Aug. 4.
As they parked their bikes, people came outside to welcome them; that's when the applause began, and the hugging. It was well-deserved. After seven weeks on the road, the men had raised more than $110,000 for The Friendship Circle. The Friendship Circle, is a fast-growing international Jewish organization which has 11,000 teen volunteer members who assist more than 5,000 children with special needs. It is headquartered in Brooklyn and has more than 79 chapters around the world, the second-largest of which is in Livingston, the group's planned stop for Friday night.
Marc Katz had a big hug for his 16-year-old son, Noam, as he stepped off his bike. Marc is an Investors Bank senior vice president with the N.Y. Commercial Real Estate Lending group and he was there with another son, Ami, 14. Both the young men are involved in The Friendship Circle — Noam as a rider and fund-raiser; Ami as a volunteer with a local chapter of the Friendship Circle on Long Island.
Another round of applause greeted the riders and support team as they entered the large conference room where pizza, soda and more were waiting for the hungry riders. They needed no encouragement to dig right in, some even continued wearing their helmets.
Investors Bank Chief Operating Officer Domenick Cama said, "Your achievement of cycling across America is an inspiration to all of us. Congratulations on making and keeping an enomous commitment to yourself and the Friendship Circle. We're honored to support your journey and grateful that you stopped to share your stories about the trip."
Rabbi Yossi Lieberman explained the mission of the Friendship Circle is to "provide friendships for children with special needs children and families." Lack of friends their own age is a problem faced by those with special needs, so youngsters volunteer to be a friend, not a teacher or an aide, just a friend. The bike ride was to raise "awareness of this unique problem," he said, as well as to raise money to support the program.
Livingston, which has 700-800 volunteers in its program is one of the largest groups in the world, he said.
The riders took the "southern route" from San Diego, with stops in cities, including: Phoenix, Az., Albuquerque, N.M.; Oklahoma City, Okla.; Memphis, Tenn.;, Louisville, Ky; Pittsburg, Pa. and Livingston.
Rider Yitzy Smith, 27, of Brooklyn, told of riding into Blythe, Ca., near the beginning of the trip and close to the end of a 93-mile ride. In the middle of what essentially was a desert, they found a tree. "We stopped in front of the tree to relax and a guy pulls up in a car," and invites the small group of riders into his home. He said he knew they were coming because he heard about it on the local radio station and the town had hung up a welcome sign, Smith said. As the bikers were getting ready to ride the last seven miles of that day's ride, they asked the man why he had a large speed boat in his front yard in the desert and he said the Colorado River was just down the road and offered to take them for a spin, if they would buy a tank of gas.
Later, four of the riders met up with him, paid for the tank of gas and spent about three hours wake boarding and skiing in the river. The man told the group this was the best day he had ever had, then shared that his wife had divorced him six weeks previously and he had been finding it difficult to go on.
Smith said he and the others were touched that they had done something so simple as be a friend to the man, and he to them, and that act had made such a difference in everyone's life. It re-enforced the rational behind the Friendship Circle; friends do make a difference, he said.