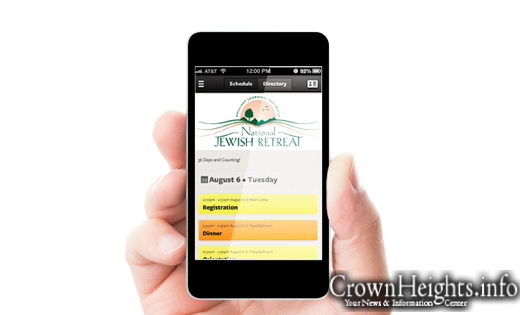 The lives of those going to the National Jewish Retreat just got a little easier. The country's largest Jewish retreat recently launched a new mobile app that will allow the over 900 attendees to personalize their retreat schedule right on their smart phones. With a swipe and a touch, Retreat goers can browse the array of lectures, have a look at the night's entertainment, and choose which workshops to attend and when.
"Right then and there they can plan what they're doing at the retreat" said National Jewish Retreat Chairman, Rabbi Hesh Epstein. "It's a very exciting development."
The 8th annual National Jewish Retreat offers six days of inspiring cultural activities and stimulating lectures, led by world renowned scholars, entertainers and academics. The luxurious Hilton Mark Center in Alexandria, Virginia will play host to this year's retreat, to be held from 6-11 August.
The app is part of a series of innovations and enhancements that are being worked into this year's retreat. An expanded program, wider services, and reinforcement of existing favorites have organizers confident that 2013 will be the Retreat's most successful to date.
All of the new features and programs have created an enviable headache: increasingly high demand. Confirmed enrolments have already exceeded earlier estimates, prompting the organizers to pull in extra resources to cope with the rising numbers. In order to manage the overwhelming response, JLI organizers have revised their contract with the Hilton hotel to accommodate the expanded guest list.
But National Jewish Retreat Director Rabbi Boruch Cohen says the last-minute surge is not surprising. "Nothing of this scope exists anywhere else in the world. The retreat offers a fabulous intersection of learning, community and recreation."
New retreat offerings include the Jewish Medical Ethics Conference, where doctors and medical professionals will explore the ethical challenges they face in modern medicine. They will be joined by leading experts in the field of Jewish medical ethics. The conference is accredited for continuing medical education.
Other retreat additions include an expanded Beis Medrash Program, as well a full-day of sessions exclusively for women, coordinated by JLI's Rosh Chodesh Society in partnership with the local shluchos.
But what organizers say is generating enormous interest is the commemoration they have planned for the 70th anniversary of the Warsaw Ghetto Uprising, which will feature a panel of experts who will recount and analyze this historic event.
The Retreat's motto "Brilliant Learning. Naturally" seems to be hitting its mark.
"I attend a lot of Jewish education courses and no other place in the world offers such broad exposure to so many different subject matters in such a friendly and dynamic environment," said Dr. Peter Pflaum, who attended the Retreat in 2012. "They offer so much, in such a short period of time. It is chicken soup for the soul."
To check out the new app, visit JRetreat2013.sched.org.