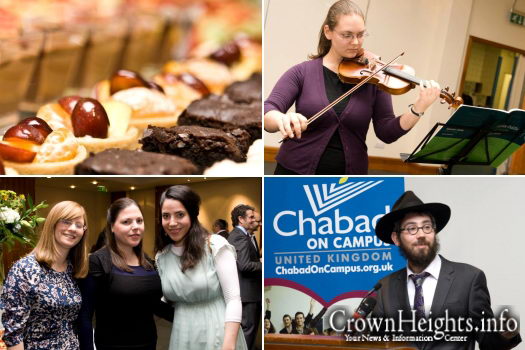 Students, alumni, supporters and friends of Chabad on Campus UK gathered at a mid summer reception in Central London this week to celebrate the enormous growth in operations over the last year, serving thousands of Jewish students in the UK and Europe.
Reflecting the growth of Chabad on Campus over the last year, there are now eighteen full time Chabad student centres serving Jewish students across the UK and Europe.
The warm atmosphere at the reception and presentations highlighted the role of Chabad on Campus to infuse pride and joy into being Jewish on campus, while simultaneously helping Jewish students overcome the challenges that they face on university campuses in Europe today.
Keynote speaker was founding supporter and chairman of the advisory board of Chabad on Campus UK and Europe, Mr. David Slager, who spoke about the incredible dedication and devotion of Chabad on campus to the needs of Jewish students in the UK and Europe and throughout the world.
Guest of honour was Vice President of the Jewish Leadership Council of the UK, former President of the Board of Deputies of British Jews, Lord Janner of Braunstone QC, who spoke of the vital work of Chabad on Campus in a difficult climate on campus and inspired the audience with anecdotes about his life long work as a proud Jewish voice in the House of Commons.
A highlight of the evening was the insights into the multi-faceted work at Chabad on Campus shared by four students: Roy Skop told the crowd about the tremendous buzz generated by Friday night dinners at Manchester University; Charlie Robinson – a recent graduate of Bristol University – spoke about the all-round care given by the Chabad couples; Frederick Levy of Southampton University spoke of the tremendous learning opportunities that Chabad offers; Daniella Doffman from Nottingham University focused on the important leadership roles the women in Chabad play.
During the evening it was announced the opening of a new permanent Chabad student centre serving campuses in Brighton and the South East of England.
Chairman of Chabad on Campus UK and director of Chabad of Oxford, Rabbi Eli Brackman, commented that the reception was a great success and showed the vital work Chabad on Campus is doing in nurturing the next generation of Jewish leaders in the UK and Europe.
The reception was chaired by Rabbi Mendy Lent of Chabad at Nottingham Universities and honourable hosts for the evening included Mr. David and Lara Slager, Mr. Allan and Birgit Freinkel, and Mr. Edward Black and Vardit Lunzer.
Musical entertainment was performed by the Oxford Klezmer group.
Tal Ofer commented, "it was a great event and a tribute to the fantastic work of Chabad on campus. May they go from strength to strength."
Chabad on Campus UK centres include: Birmingham, Brighton, Bristol, Cambridge, Edinburgh, Leeds, Liverpool, Central London, East End of London, South London, Manchester and Nottingham.
Chabad on Campus Europe centres include: Amsterdam, Berlin, Hungary, Florence and Paris.
For more information about Chabad on Campus visit: www.chabadoncampus.org.uk andwww.chabadoncampus.eu