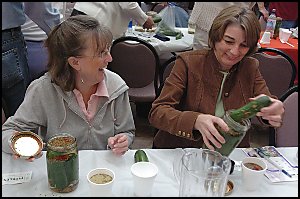 Ventura County Star
Laurel Lee, left, and Robym Hazard, both of Newbury Park, attend a rabbi's kosher pickle workshop at Conejo Jewish Academy in Agoura Hills.
Conejo, CA – Kosher Awareness Week at Chabad of the Conejo means discovering how to preserve cucumbers in brine
It was a real pickle — about 400 of them — when some 75 men, women and even teenage boys munched on store-bought gherkins before making their own kosher dills.

"And they said no one would come," said Rabbi Moshe Bryski of Chabad of the Conejo. It was Bryski who came up with the idea to have a recent Monday night pickle-making and -tasting. "Pickles are part of Jewish life."
The pungent smell of garlic, mixed with hints of dill and vinegar, permeated the air in the meeting room of the Conejo Jewish Academy in Agoura Hills where the workshop took place.
"You can't be Jewish without loving pickles," Bryski added.
Kosher expert Rabbi Shlomo Bistritzky, the pickle tutor, debated who was the bigger fan of the preserved cucumber. "He (Bryski) told me he wanted to become rabbi of all kosher pickles," Bistritzky joked.
"In the grocery store, you see Claussen and Vlasic. Ptewy!" said the gesturing rabbi, playfully criticizing the manufacturers because they use vinegar in their pickles, as opposed to just saltwater.
Jesse Socher of Agoura Hills smiled and laughed as Bistritzky talked about transforming little cukes into a taste of heaven. Socher made pickles before but admitted, "I cheat. If I have good juice, I save it." He wanted to learn how to make good brine every time.
Six teenage boys agreed the hot and spicy pickles, one of a dozen varieties out for sampling, were their favorite. When it came time to make their own jars, they made sure to add peppers to the juice.
It was a pickle-making first for Ethlene Pollak of Thousand Oaks, who went to the Nov. 13 workshop because it sounded like fun. By the end of the night, Pollak, Socher, the teenagers and the rest of the dilettantes all had jars ready to take home.
The process was uncannily easy, although Socher had to use a little muscle power to force his third cucumber into the Mason jar.
The pickle event was part of Kosher Awareness Week at the Chabad, and kosher and tradition were the focus.
"Why is kosher so important? Because you are what you eat," explained Bistritzky, pointing out that animals eaten for meat under kosher rules are generally passive rather than aggressive. "We don't eat shark."
The rabbi cringed as he recalled how he's seen "kosher" bread baked in a non-kosher oven (where non-kosher foods were also baked), which means the bread is no longer kosher. He also shook his head as he recalled being asked to bless coffee so it would be kosher. That's just not how it works, he said.
Kosher does not mean a food is blessed; the designation comes in the preparation, from butchering meat to processing foods.
Kosher rules, for example, require separate dishes for meat and milk products. Items such as raw fruits and vegetables are naturally kosher, as are unprocessed grains, but processed grains may have some non-kosher ingredients.
Bistritzky differentiated between glatt kosher and kosher. Glatt (smooth) kosher comes from animals with lungs that are unblemished. Kosher animals can have lungs with old injuries that have healed.
Kosher is also big business. The industry and all of its spin-offs pump $500 billion a year into the economy, Bistritzky said.
Whether it be pickles or meat, salt is vital to kosher food, he noted. All salt is kosher, but the coarse salt commonly known as kosher is used to draw out blood from meat, he explained. The small grains of table salt are too small for the job.
"Salt is so amazing," Bistritzky said. "You can look at it and see God." Salt comes from water, which represents the soft side of God, while the salt itself represents God's harshness, he said. They are opposites but the same.
Seeing God is what's important in kosher and living. The pickles are just a bonus.
"We're bringing back kosher pickle-making," Bistritzky said. "We're bringing back tradition."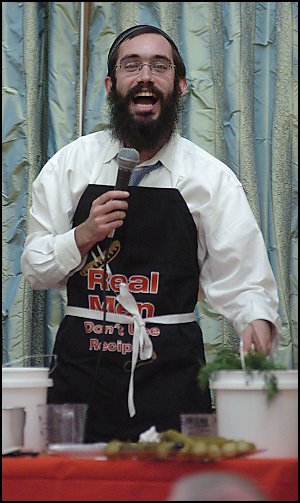 Rabbi Shmuel Marcus of Cypress gives instructions to attendees on how to make kosher pickles.