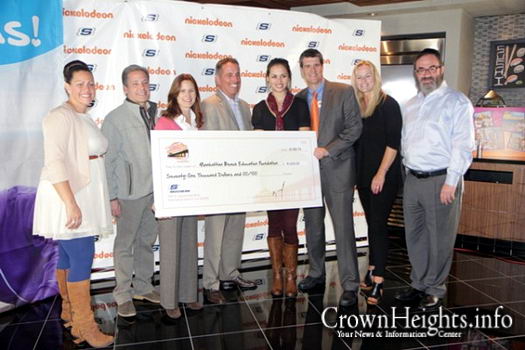 Skechers Pier to Pier Walk distributes $586,000 to FC
Almost 2,000 people participated in the first Skechers Pier to Pier Friendship Walk in 2009. Last October, 7,966 people participated in the annual walk. The Strand between the Manhattan Beach and Hermosa Beach piers was so jammed, concerns were raised about where to hold the walk if it continues to grow in coming years.
Greenberg presented checks from the 2012 walk to the Friendship Circle and six SouthBay education foundations Tuesday evening during a party at Skechers' Manhattan Beach headquarters.
"These checks aren't from Skechers. They are from the walkers and corporations who supported the walk," he stressed prior the presentations.
The Friendship Circle was founded in 2005 when Rabbi Yossi Mintz of the Jewish Community Center asked friends Wendy and Michael Greenberg to help him found a program for special needs kids. Mintz's idea was modeled on a Friendship Circle founded by a rabbi in Detroit in 1994. The idea has since spread to 79 communities, worldwide..
The 2012 walk raised $586,000, half from walkers and half from corporate supporters, ranging from Body Glove to Wells Fargo and Nickelodeon, according to Skechers president Michael Greenberg.
Locally, the program has grown from 30 special needs kids to 2,500 kids attending 30 SouthBay schools, supporter and celebrity fitness trainer Denise Austin told Tuesday's gathering.
The programs matches special needs kid with fellow teenagers for social and athletic activities. Tuesday night, Rabbi Mintz reported as the checks were being presented, over 100 South Bay Friendship Circle kids and teen volunteers were attending the Clippers game at StaplesCenter.
Friendship Circle teen volunteer Amanda Villapando, a MiraCostaHigh School senior, told Tuesday's gathering that special needs kids no longer sit alone at lunchtime because of the program.
Rabbi Mintz accepted a $250,000 check from the walk on behalf of the Friendship Circle. The Palos Verdes Education Foundation received $105,000, the Manhattan Beach Education Foundation $71,000, the Hermosa Beach Foundation 35,000, the Redondo Beach Foundation $40,000 and the El Segundo Education Foundation $40,000.