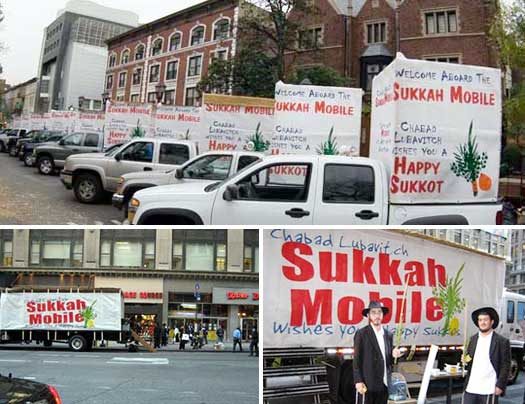 With Sukkos quickly approaching, dozens of Bochurim and Shluchim have already confirmed their Sukkah Mobiles for this coming Chol Hamo'ed. After tremendous efforts, by Bochurim and Yungerleit, the Sukkahs are ready to be assembled, rental contracts are already confirmed and much more has already been done in advance of what promises to be the biggest Sukkah Mobile season yet.
Last Year alone, close to 40 Sukkah Mobiles, including three 20′ flatbed trucks, have been organized through the Mitzvah Tank Org. "This year," the organizers say, "It will be even bigger!"
This year the Mitzvah Tank Org. is offering 2 completely new packages for Shluchim and Bochurim. Whether you need a Sukkah mobile for one day, the entire Sukkos, have your own pickup truck or just need Bochurim they have a package for you. There is even a free package available this year.
"We reserve the pickup trucks. We supply and build the Sukkah, which includes stairs and a bamboo mat, a music system, and for Bochurim we even find you a location to do Mivtzoim and much more…"
To reserve a Sukkah Mobile, please do so ASAP by filling out this form. Or for more info, call (718) 804-0077 extension 112 or email sukkos@mitzvahtanks.com .