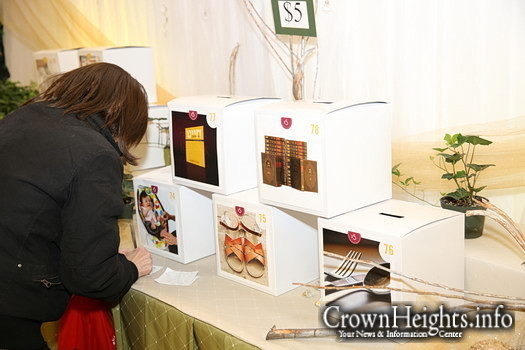 Last year's ULY-Ocean Parkway Chinese Auction
Can you eat muffins, cheesecakes, or join your friends in a restaurant and still lose weight? According to nutritionist Tanya Rosen, "Yes."
Rosen, creator of Nutrition By Tanya, will be debunking the many myths about Dieting and Fitness this Sunday at the annual ULY-Ocean Parkway Chinese Auction.
For many people, dieting and a delightful cuisine are a contradiction. Restaurant menus are notoriously high in carbs, calories, sugar etc. But that does not mean that you can't lose weight or live a healthy lifestyle.
You may wonder how this is possible. This Sunday, at United Lubavitch Yeshiva's Annual Chinese Auction, Tanya Rosen will give you the answers. Throughout her many years of experience, she has helped over 2,000 people reach their health goals.
Tanya has brought fun and enjoyment to dieting and fitness. She has created her own line of products from pizza to challah, holds fitness classes and has 7 locations around New York and New Jersey. Crown Heights is her next destination, with a center opening on Albany Ave. in a few weeks.
Immediately after Tanya's presentation, there will be a raffle, at no additional charge, for one lucky participant to win a nutritional package of Tanya's expert services. The package includes 6 sessions of nutrition counseling, an exercise class card, and a kosher ladies workout DVD series that she produced (valued at almost $500).
The Chinese auction will be held on Sunday, April 30 (7 Iyar), at Campus Chomesh – 470 Lefferts Avenue (Corner Brooklyn Avenue).
Men's hours are from 3:30pm to 5pm.
Women are invited from 5pm and on.
The program begins at 8pm and the drawing is at 9pm.
Admission is $25, which includes a $20 ticket.
Tickets will also be available at ulyauction.com until 7:00 pm this Sunday, April 30th. Click here to purchase tickets.