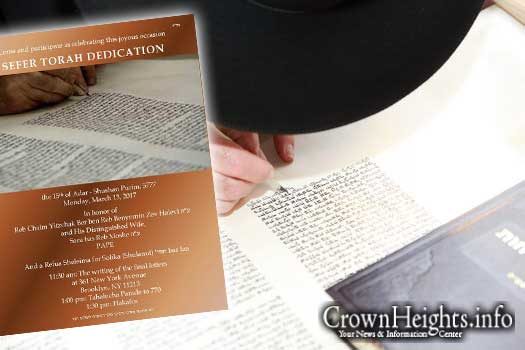 A brand new Sefer Torah will be completed Monday, Shushan Purim, by the Pape family in memory of their grandparents and in the merit of a complete and speedy recovery for their mother.
The Pape family would like to invite the community to the Dedication of a new Sefer Torah this Monday, Shushan Purim.
The final letters will be written at 361 New York Ave. starting 11:30 am. And it will march to 770 at 1:00 followed by Hakofos.
The Torah is L'iluy Nishmas R' Chaim Yitzchok Ber ben R' Binyomin Zev A"H, and his distinguished wife Sara bas R' Moshe A"H, Pape. The dedication is also Lizchus a Refuah Shleima for Mrs.
Pape – Solika (Shulamis) bas Izza.