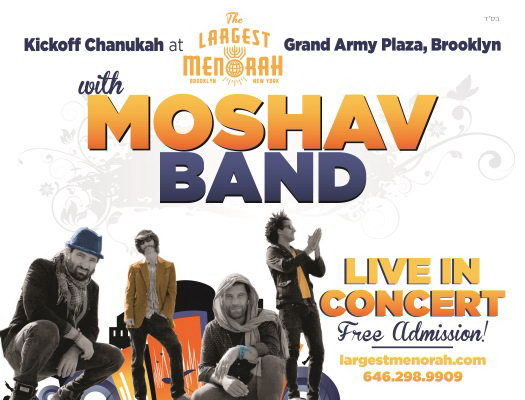 The Largest Chanukah Menorah in Brooklyn will proudly stand at the monumental Grand Army Plaza entrance to Prospect Park. The first candle will be lighted on Saturday evening December 24, at 7:00 pm.
In recent years, The Largest Menorah  of Brooklyn has been featured by prominent media outlets as the premiere Chanukah event in NYC. Each night The Largest Menorah honors community leader, elected officials and philanthropists with leading the lighting ceremony. Some of our past honorees have been incoming Senate Minority Leader Charles Schumer, New York City Mayors Michael Bloomberg and Bill de Blasio, as well as many other dignitaries.
"The Menorah is one of the most recognized symbols of the Jewish people. Its lights publicly proclaim the timeless message of the Chanukah victory of light over darkness. The Menorah stands proud as the triumphant symbol of freedom, democracy and courage delivering a timely and personal message for each person" said Rabbi Shimon Hecht, Director of Chabad of Park Slope.
Due to the heights of the menorah, the 33.6ft high gold colored steel structure will be lit nightly with the help of a Con Edison "cherry-picker" lift. Genuine Kerosene with specially designed glass chimneys protect the flames from strong winds.
Chanukah Kickoff Concert
The annual Chanukah kickoff concert will take place Saturday evening, December 24, at 7:00 pm. The celebration will feature the world renowned Jewish rock band – MOSHAV. The concert is free admission and open to all. Special children's entertainment, singing and dancing, Chanukah Gelt for the children and hot Latkes, the traditional food of Chanukah, will be distributed to everyone.
Community Celebration
The Largest Menorah lighting ceremony is a community-wide event celebrated by Jews and non-Jews alike. Every night the celebration is accompanied with live music and hot latkes for all. Special gifts are distributed to every child, making this a family celebration and a must on everyone's calendar.
The lighting schedule for the Chanukah Menorah is as follows:
Saturday, December 24 – 7:00 PM
Sunday, December 25 – 6:00 PM
Monday, December 26 – 6:00 PM
Tuesday, December 27 – 6:00 PM
Wednesday, December 28 – 6:00 PM
Thursday, December 29 -6:00 PM
Friday, December 30 – 3:30 PM
Saturday, December 31 – 7:00 PM