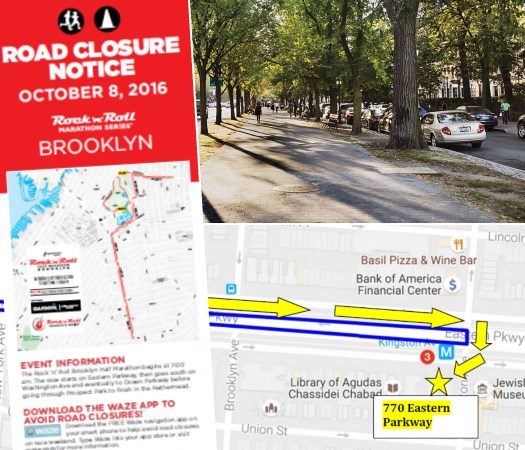 Marathon to Block Off Eastern Parkway Shabbos Morning
A half-marathon will be held on Eastern Parkway this Shabbos. Residents will not be able to cross over Eastern Parkway from about 3:00am to 9:30am.
The marathon will arrive from Prospect Park, make a U-turn on the corner of Eastern Parkway and Kingston, and then head back towards Prospect Park.
Anyone who wishes to cross Eastern Parkway on Shabbos morning will be able to do so at the eastern side of the Kingston Ave. intersection (the side of the JCM and Kehot).
The intersection of Eastern Parkway and Brooklyn Ave. is within the marathon route and will be closed to pedestrian traffic.
Last year the marathon made the U-turn on Albany Ave., and the Kingston Ave. intersection was completely closed. This caused a lot of difficulty because people weren't able to cross at Kingston Ave. to get into 770.  This year, after input from community leaders through the Mayor's office, it was moved up a block so that people could cross the parkway on at least one side of Kingston Ave.
[pdf-embedder url="http://crownheights.info/assets/2016/10/BKLN_16_LUBAVITCHAccess.pdf"]
[pdf-embedder url="http://crownheights.info/assets/2016/10/BKLN_16_rcb_FINAL.pdf"]