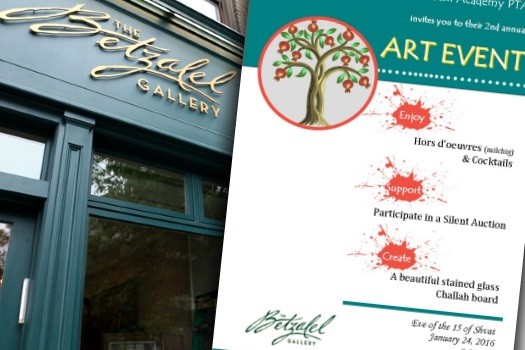 B'nos Chomesh Academy invites the women of Crown Heights to participate in an art event this Tu B'shvat, the proceeds of which will benefit the beloved educational institution.
The event will take place Sunday, January 24th, the Eve of Tu B'Shvat, at the Betzalel Gallery, 567 Empire Boulevard, beginning at 8:00pm.
At the event, participants will create beautiful works of art that they will be proud to display and use at their shabbos table. They will enjoy an elegant dairy buffet and desserts, and participate in a silent auction for incredible prizes that will appeal to their esthetic sense and creativity.
The event is for women and girls over the age of 18.  Space is limited so please reserve your spot.
Admission to this boutique event is $72, or $65 for advance reservation.
Describing her experience with B'nos Chomesh, a parent of one of their students writes:
Today I walked into my daughter's school and the scene that greeted me was straight out of a parent's imagination. Let me describe to you what my smiling eyes witnessed. Two teachers, an assistant principal and a principal discussing teaching strategies to better explain one concept to a high school student who is having difficulty with math. The brainstorming was real, passionate and loving. The care that the staff showed for the student was palpable.
This scene felt like the "cherry on top" of my experience at B'nos Chomesh. It's one of the many reasons for my gratitude to Hashem and to B'nos Chomesh Academy for being my daughter's school. It also motivated me to get involved and help plan a fundraiser for the school.
Our journey with BCA started last winter. A year ago to the day, my daughter felt "broken", as she describes it. As a victim of bullying she no longer enjoyed attending school and worried about what new struggles each day would bring. A grateful parent told us about the wonders B'nos Chomesh had done for their daughter. We decided to find out if it was the right fit for our daughter, because not only had her emotional wellbeing suffered, her academics suffered as well.  Our first visit to BCA revealed a warm and welcoming atmosphere, where each girl feels safe and able to reach for the stars.
Four month ago, after her first week at B'nos Chomesh Academy, our daughter declared: "I don't go to school, I go home and I learn there." The personal attention, customized learning program and realistic, down to earth no-nonsense approach, Chassidishkeit, paired with positive reinforcement and accountability are recipe for success.