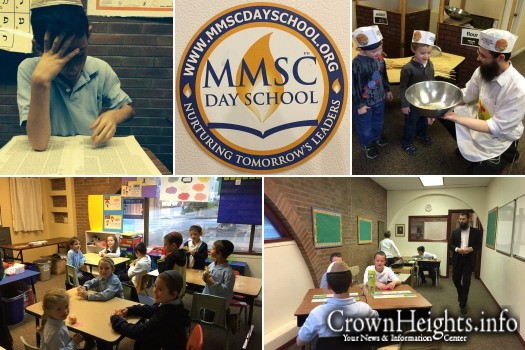 Menachem Mendel Seattle Cheder aims to make educational history by raising $100,000 in 24 hours, with each donation matched by Paula Begoun, The MMSC Vaad and the Lev Yosef Foundation.
Established more than 40 years ago, MMSC is proud to be educating Jewish children of all walks of Seattle life, according to the teachings of Chassidus.
When Rabbi Sholom Ber and Chanie Levitin, the first Shluchim to the Pacific Northwest, were in a yechidus with the Rebbe, Mrs. Levitin asked the Rebbe, "What will be with the education of my children?".  The Rebbe responded to open a Cheder and told her that it would start with a few children in younger grades but would grow into a full Cheder.  That little Cheder that began in a former college sorority house with just a few students has grown into the Cheder the Rebbe envisioned with a student body of children from all across the greater Seattle Jewish community including the children of 19 Shluchim families.
For the next 24 hours (from 3:00 pm EST on Wednesday, 09/09/15, until 3:00 pm EST on Thursday, 09/10/15), MMSC will be appealing to friends and admirers around the world – including Cheder alumni and relatives of those who have benefited, or are currently benefiting, from the program – to help the school reach its goal of $100,000 in new scholarship and program revenue.
Donors Paula Begoun, The MMSC Vaad- the Bogomilsky, Farkash, Gitler, Goldberg, Kornfeld and Levitin Families and the Lev Yosef Foundation have pre-committed to match every dollar generated by the campaign at a 4:1 ratio – provided the objective is reached. In other words, the greater community's pledges must amount to at least $25,000 by 3:00 pm EST on Thursday if any of the funds pledged are to be collected at all.
MMSC's early childhood program distinguishes itself as the only Jewish Montessori preschool in the Greater Seattle area.  This year MMSC has instituted a full Tzivos Hashem program and a computer programming curriculum.
"I am excited for a year of immense growth both academically and emotionally in all our students" says principal, Mrs. Chaya Elishevitz. "This school, with the Brochos of the Rebbe and hard work and dedication of our talented staff and parents, will flourish and bring Nachas to all.  MMSC is a community of over-achievers who set the bar very high, reach it and then raise it higher. This dynamic positive energy can be felt emanating from every classroom and each office every moment of every school day."
Even as its annual budget continues to climb – the lion's share of which is allocated for full and partial scholarships – the Cheder's administration is as determined as ever to see to it that every dollar of the school's budget is covered in a responsible manner and utilized to maximum impact for the Chinuch of its students.
The success of this Charidy matching-funds drive will go a long way toward facilitating that reality – as MMSC reaches for yet greater heights in nurturing the proud, G-d-fearing and knowledgeable future lamplighters of Chabad, as inspired by the school's namesake, the Lubavitcher Rebbe.
MMSC is a proud beneficiary of the Samis Foundation and the Seattle Jewish Federation.
To make your vital and timely 4×1 donation to MMSC, please click here.