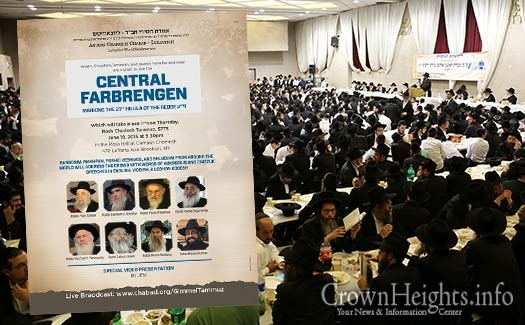 Tonight, Thursday, the central Gimmel Tammuz Farbrengen will take place in Beis Rivka Campus Chomesh and thousands of Chassidim, Bochurim, Shluchim and Anash will be participating. The event will also be broadcasted live here on CrownHeights.info.
The central farbrengen of Gimmel Tammuz 5775, marking the 21st Hilula of the Rebbe will take place this evening in Crown Heights.
Thousands of chassidim, Bochurim, Shluchim, will gather in the 'Rosa' Hall at Campus Chomesh, which is a few minutes' walk from 770.
Rabbonim, Mashpiim and Shluchim will address the crowd delivering words of hisorerus regarding chizuk hahiskashrus. An exclusive memento will be distributed among the participants, and a special release of never-before-seen footage of the Rebbe will be shown on the giant screens.
Over the course of the evening, participants will have an opportunity to sign on the Pan Kloli of all chassidim, which will be read the following afternoon by the Rebbe's Ohel, in the presence of senior Shluchim and members of Agudas Chasidei Chabad.
The farbrengen is scheduled to begin at 9:30pm.