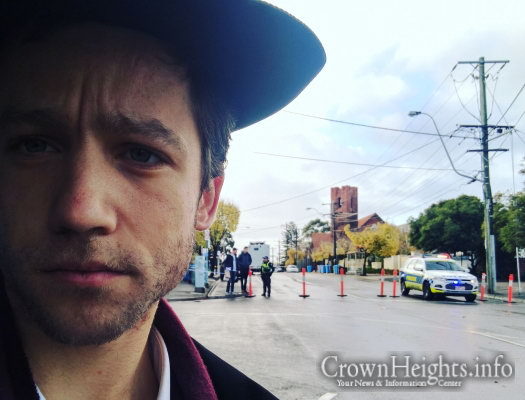 In light of the terror attack in the Brighton neighborhood of Melbourne last night, Rabbi Pinny Super, director of Chabad Young Professionals-Melbourne, in coordination with the local chief of police, visited the site of the attack this morning to offer moral support and give thanks on behalf of the Jewish community to the brave police force and investigators who risk their lives for the communities safety. He brought along warm danishes and goodies for the police to enjoy throughout the day.
Rabbi Super said "It was an honor to bring some morning danishes and goodies to the brave Victorian police this morning at the terrible scene in Brighton on behalf of CYP – Chabad Young Professionals – its members and supporters. Spread some love and light today as the Rebbe taught us "A little light dispells much darkness"
Chabad Young Professionals Melbourne has been running social, religious and Business events for singles and young couples in their 20′ & 30's since January 2016 and has had thousands of young adults attend their events.