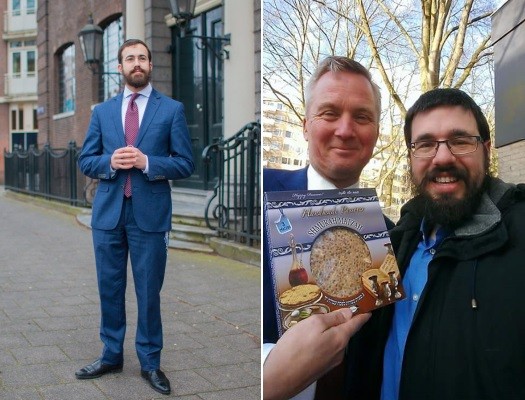 Humans of Amsterdam, a Facebook Page featuring photos of random city-dwellers and their stories inspired by Humans of New York, last Thursday featured a photo of local Campus Shliach Rabbi Yanki Jacobs, who had just delivered a box of Matzah to the Mayor.
The text of the Facebook post bears snippets of the conversation that ensued between Rabbi Jacobs and the photographer:
"I'm a rabbi on campus. I just came from the mayor's office to give him a present."
"Why did you bring him a present?"
"Tomorrow it's Passover and we celebrate the emancipation of the Jewish people from slavery in ancient Egypt. During Passover we eat Matzah, which is a kind of flat bread. The Matzah is a symbol for freedom and so is the city of Amsterdam. During Passover we celebrate the fact that we are free and we get to be whoever we want to be. I brought the mayor a box of Matzah to thank him for defending the freedom of our community and all other communities in Amsterdam. I advised to Mayor to eat the Matzah with butter and brown sugar but of course he is free to eat it however he wants to."
The Facebook post was 'liked' by over 2,300 people.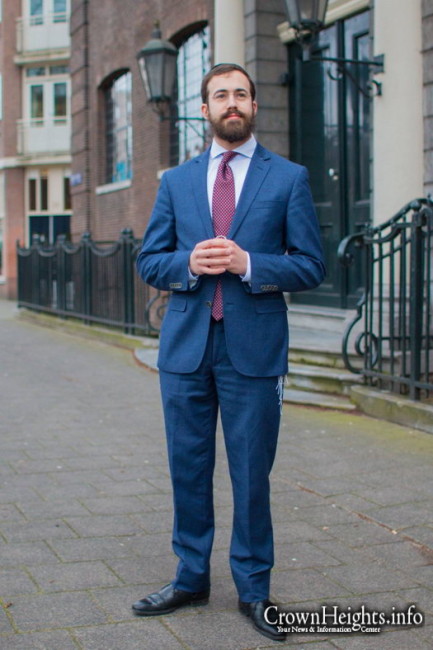 This second photo submitted to CrownHeights.info depicts the deputy mayor of Amsterdam, who is Jewish and has a Jewish wife and children, receiving Matzah from another Amsterdam Shliach – Rabbi Menachem Evers.