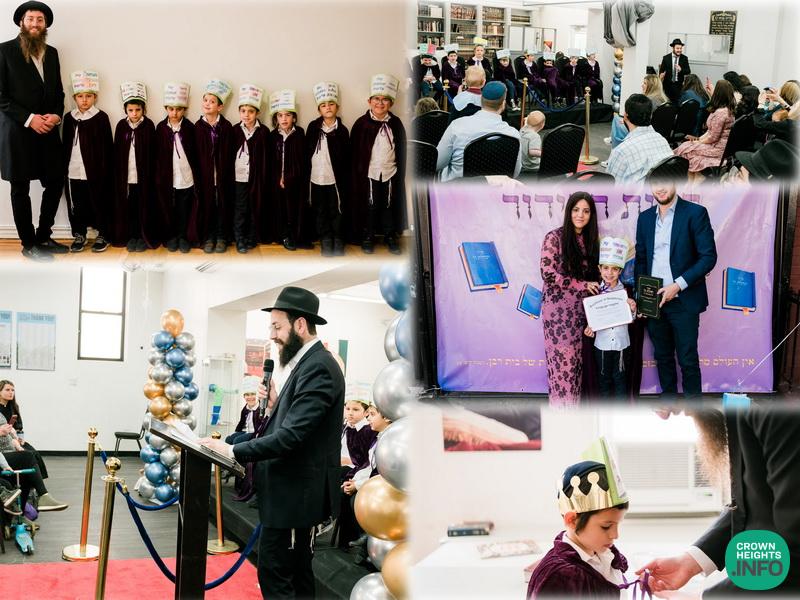 Darchai Menachem Hosts Siddur and Chumash Parties for Young Students
This past Sunday, the halls of Nosson's Shul in Crown Heights echoed with the joyous sounds of young boys celebrating a major milestone in their early Chinuch. Darchai Menachem hosted Siddur and Chumash parties for their Pre1a and first-grade classes, respectively.
The boys were dressed in their finest attire, eagerly anticipating the moment when they would receive their very first siddur or Chumash. As they entered the shul, their faces lit up with excitement as they saw the beautifully set up tables, balloons, and decorations.
The event was presided over by Darchai Menachem principal Rabbi Menachem Amar. Rabbi Zalman Teleshevsky and Rabbi Shmuel Dovid Raichik, the dedicated Rebbeim of the Pre1a and first-grade classes, respectively, spoke to the boys about the unique and special maalos that each and every one of them possesses. They emphasized that every boy is different and has his own strengths and that they are all equally valuable and beloved in the eyes of Hashem.
The boys sang a niggun that they had prepared especially for the occasion, and then read from their newly acquired siddur or Chumash. They eagerly pointed out the letters and words they had learned, and the Rebbeim praised them for their hard work and dedication.
Rabbi Eyal Bension, the dean of the yeshiva, also spoke to the boys, reading a letter from the Rebbe and expressing how proud he was of each and every one of them. He reminded them that they are the future of our community and that they have the power to make a positive difference in the world.
As the festivities drew to a close, the boys left the shul with their siddurim and Chumashim in hand, beaming with pride and excitement. The Siddur and Chumash parties were a wonderful way to celebrate their accomplishments and to inspire them to continue learning and growing in Torah and mitzvos.
Darchai Menachem is a truly special yeshiva, where each child is cherished and encouraged to reach his full potential. It is clear that the Rebbeim and staff put their hearts and souls into creating a warm and nurturing environment where children can thrive.