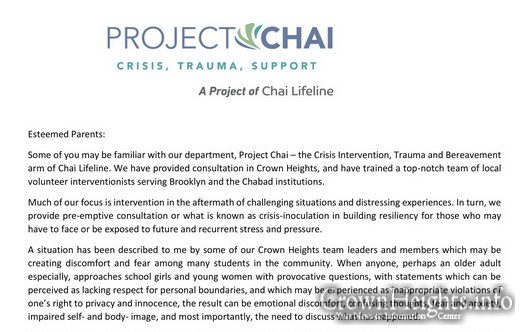 Rabbi Dr. Dovid Fox, Director of Interventions and Community Education, and Project Chai of Chai Lifeline, published a letter to the Crown Heights community, outlining concrete steps parents can take to empower and protect their children from potential dangerous situations.
by CrownHeights.info
Rabbi Dr. David Fox is a forensic and clinical psychologist, who although he resides in Los Angeles, heads the Crises, Trauma, and Bereavement Department for Chai Lifeline International. He is also a rav and rabbinic lecturer, a published author, and graduate school professor.
Following recent reports of worrying incidents that occurred on Kingston Ave, he published a letter outlining some important steps parents can take to protect their children from such incidents.
"A situation has been described to me by some of our Crown Heights team leaders and members which may be creating discomfort and fear among many students in the community," Rabbi Fox wrote. "When anyone, perhaps an older adult especially, approaches school girls and young women with provocative questions, with statements which can be perceived as lacking respect for personal boundaries, and which may be experienced as inappropriate violations of one's right to privacy and innocence, the result can be emotional discomfort, confusing thoughts, fear and anxiety, impaired self- and body- image, and most importantly, the need to discuss what has happened."
Rabbi Fox continues by outlining the necessary components of crises prevention, called "crisis-inoculation." He stresses the need to be supportive of your child, pay attention to them, validate their concerns, reassure them, and protect the child from further harm.
He also placed an emphasis on teaching your children to speak out, and clearly inform any involved that they feel uncomfortable, and will not remain in the situation.
He finished off his letter with the parting words, "Advocate for your children. Keep Crown Heights a place of Torah, kedusha and safety."