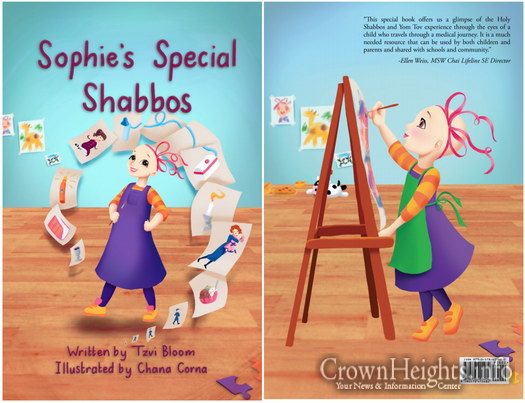 "Sophie's Special Shabbos" A Children's Book
A book written by 7th grader Tzvi Bloom dedicated to his cousin Sophie is a tremendous aid to families, communities, and schools which include children who must celebrate Shabbos "differently".
When a child is on a journey towards health, every aspect of daily life is impacted, including Jewish practice. A holiday or Shabbos that was once electronics-free and spent in the comfort of home may now include activities that were formally off-limits, such as driving a car to the hospital. It is challenging to explain to children, their siblings, and their peers why it is not only acceptable to celebrate Shabbos differently where illness is concerned… it is actually G-d's
intention.
Readers follow the experience of the vivacious Sophie, a child with pediatric cancer, through a description of her new normal. She explains ideas ranging from what chemotherapy is and how it impacts the way she feels, to why it is important to be careful of germs when kids are immunocompromised. Sophie celebrates a special Shabbos inclusive of utilizing a breathing machine, acquiring a fever, having a Shabbos party in the hospital, and recital of havdala with an
electric candle.
This book leaves readers with the knowledge that whether a child has cancer or asthma, cystic fibrosis or spina bifida, each one is valued as an integral part of the world.
Sophie's Special Shabbos is an immensely powerful tale with a very clear message:
You are loved beyond measure.
Book is illustrated by talented Chana Corna (graduate of Lubavitch Tzohar Seminary in Pittsburgh).
The book can be purchased at:  www.mikvahcalendar.com/product/sophie