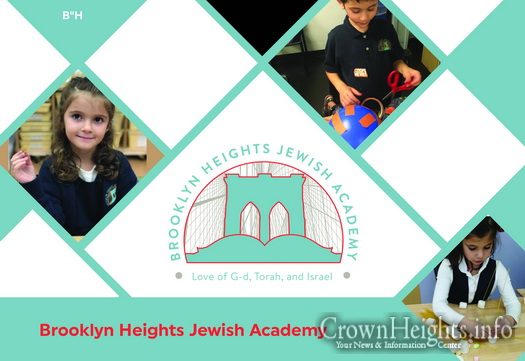 Experience and Compassion — what better combination? But where to find it? At the Brooklyn Heights Jewish Academy nestled in the heart of Brooklyn Heights, NY, where Rabbi Yeshayahu Greenfeld, who has just accepted the position of Educational Director, has both in good supply.
Do you love going to work every day? Your children will. That's Rabbi Greenfeld's philosophy in a nutshell. The way he sees it, a great Jewish school is filled with children who love to learn and teachers who love to teach, period, and it's his mandate to make that happen every day. Greenfeld will be honing BHJA's already stellar curriculum of Traditional and Secular studies, and, says school founder Rabbi Aaron Raskin, "BHJA couldn't be more happy to have him. We educate each child 'according to his way,' as King Solomon would say and Rabbi Greenfeld, with his track record of success at schools much larger than ours like the Yeshivah of Flatbush and at his last career stop at the North Shore Hebrew Academy in Great Neck Long Island, deeply understands this. His philosophy, like ours is based on the principles of love of G-d, Torah, and Israel — which includes love of our fellow man."
BHJA students emerge each day from BHJA supported in the unique impact that they can make on Society, not only as Jews, but as the next generation of citizens of a Planet that is rapidly changing.
2019 will be an exciting year at BHJA, where students, in a classroom student:teacher ratio of 15:1 will get the attention they need. The curriculum focuses on Talmud and STEM, as well as on reading and writing — both in Hebrew and English. When students leave BHJA, they are proficient in each language. Nearby is the world-class playground of Pier 6, where, supervised by staff, the children play across from the amazing vista of the Manhattan skyline. What better way to dream!
Brooklyn Heights Jewish Academy (BHJA), founded five years ago, is the neighborhood's first independent Jewish day school and was built upon the success of the Gan Menachem Kiddie Korner Preschool (established in 1991). Its policies are inclusive. No child is judged based on their family's knowledge or experience with Tradition. All are welcome. Each year the school has expanded a grade, resulting in grades Kindergarten to 4th grade in calendar year 2019.
It is BHJA's mission to raise the standard of Jewish education now for tomorrow's Jewish leaders. BHJA believes in bringing mind, heart, and soul back to the classroom―creating groundbreaking, unparalleled excellence in both Judaic and general academics.